Nowadays, I feel that picture clicking has become a trend. Whenever we do something, we click that moment, whether we cook, create something special, write something, capture a moment, spend time with families, dance, play with kids, etc. We also record videos of those special moments. Because pictures and videos are the only way to remember moments and ultimately they become memories! When you see them in the future, there will be a smile on your face and everyone else at the moment. It's good that we capture them, but it's also necessary to manage our photo gallery also! So there should be a permanent solution for this to manage the photo gallery and editing photos as well! It's known as Simple Gallery Pro, which is a professional file organizer to edit photos with ease and manage the gallery.
Simple profile organiser and photo album make it easy to edit your pictures, crop them, flip, rotate and resize or apply filters you desire. It supports a huge range of different file types including JPG, PNG, MP4, MKV, RAW, SVG, GIF, panoramic photos, videos and many more.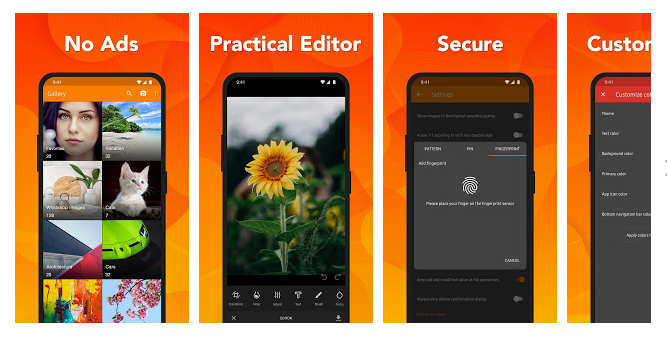 The app is user friendly from the UI to the function buttons on the bottom toolbar, it's a highly customisable file organiser and works the way you want it to. Moreover, it recovers all the deleted photos and videos if you lost them by mistake. There is no need to worry about your photos. The Simple gallery Pro is a handy tool and solves every problem related to the photo gallery.
With Simple Gallery Pro, you can hide photos, videos and files if you find that someone is snooping around you. You can create a password or a pin, pattern or your device's fingerprint scanner to protect the photos. In fact, when you want to delete a photo or a video you need to unlock the app if you have locked it. There are a lot of ways to filter photos, group them and sort files. You can search the images you want to edit, zoom, high quality pictures, videos and GIFs easily with gestures. You can easily rename, copy/move, hide/unhide, delete images, videos, recover them, GIFs, etc. Moreover, you can set any image as wallpaper without any hassle. For viewing a video, use portrait or landscape orientation easily if you want to!
Overall, Simple Gallery Pro is a highly customizable photo manager and file organizer app which is loved by millions of people all around the world for its great intuitive and user friendly interface. The most interesting fact about this app is that it doesn't show any ads while using the app nor it uses the Internet. This gives you more privacy, security and stability. The app is available only for ₹49 on the Google App Store.
Get it now!
PROS: advanced photo editor; support many file types; highly customizable file manager; recover deleted photos and videos; protect and hide photos, videos and files; display no ads.
CONS: none.
Worth Having App – Download the App