Recently I have become really interested on productivity apps for small businesses and TREXIS app developed by SDG Consult Limited is one that really stood. It uses a simple yet powerful concept of collaborative engagement to keep track of jobs, clients and teams.
What is TREXIS?
TREXIS is a simple and user-friendly platform that streamlines the process of collecting the right information from customers remotely, managing communication with them professionally, setting up reminders and tracking progress on every job.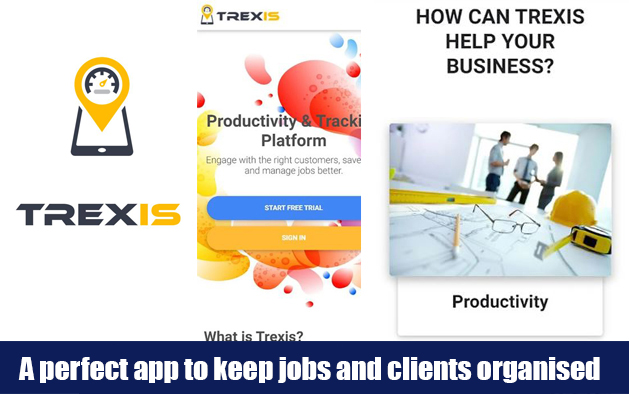 Key benefits of TREXIS
Engage
Send a form to your clients through your dashboard by simply using the mobile phone number they call you from and they will fill all the details about themselves and the job to let you decide how to follow up without the need to visit them.
Track
TREXIS professionally offers online tools for tracking your jobs, status, history, progress and more. You can know exactly who is working on what and make sure your customers are taken care of.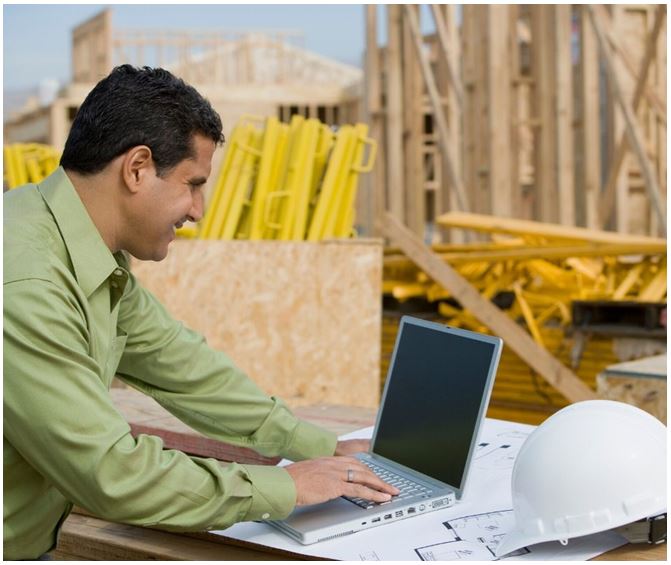 Secure
TREXIS is an online platform, managed and secured by quality engineers and IT professionals. More importantly there's no software to install, no licenses to update, no worries on your part. You can safely focus on your business while we keep things running smoothly.
Catalogue
Navigate and catalogue your jobs as required. You can view a complete history of all interactions with your customers. Get catalogue for easy listing and advanced search.
Optimise
Through dynamic forms, pictures and videos of your customer's premises, your productivity will increase. Not only it will save money by not having to drive to every customer just to provide a quote, but it will always be prepared before going to a site.
Report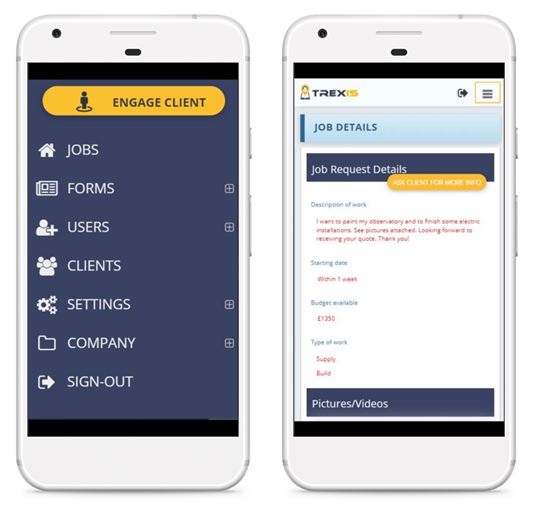 Generate reports with a click of a button. View graphs and statistics on how your business is doing by category and dates.
How the App Works
Engage your client
Primarily send your client a text message or e-mail with a generated link from your personal dashboard.
Client fills out a customised form
By using the link, client fills out a form, from the customised set of forms you have created.
Client sends images & video
It is illustrated that client then uploads images and video from their phone with a tap of a button which helps your team decide what it takes to get the job done and how to proceed.
Manage everything from your dashboard
You can use your dashboard to manage all jobs and you have full control. It is possible to see the status of each job, the history, pictures, videos and comments. You can also view statistics, charts, and reports. Manage your company staff, access rights and see how your resources are being effectively utilised.
Value for money
You can try TREXIS for free with 10 job forms, then starting from £5.99/month, a really small price for the value it gives you to keep your clients, jobs and your team organised in one place.
Verdict
The developer of TREXIS app certainly did a persuasive job with key features, that's for sure. Because of the qualitative concept and features, everything is adeptly packed for benefit of users.
WEBSITE: https://www.trexis.io/
DOWNLOAD FROM GOOGLE PLAY STORE:

DOWNLOAD FROM APPLE APP STORE: