You can have up-to-date tracking information about the departure and landing of a flight by making use of apps. It can be like wanting your friend or family to pick up from the airport or to keep yourself updated, you can save a lot of time and money by making use of apps. These apps help you to identify fast, latest, real-time, correct information about flights.
Air travel and tracking flights can be less stressful when you make use of this best flight-tracking app – 'Flights with Friends' to relieve yourself. Users will be able to monitor the arrivals, delays and cancellations as well. When you make use of this app, you can check up for the newest flight tracker information for arrival times, delays and cancellations.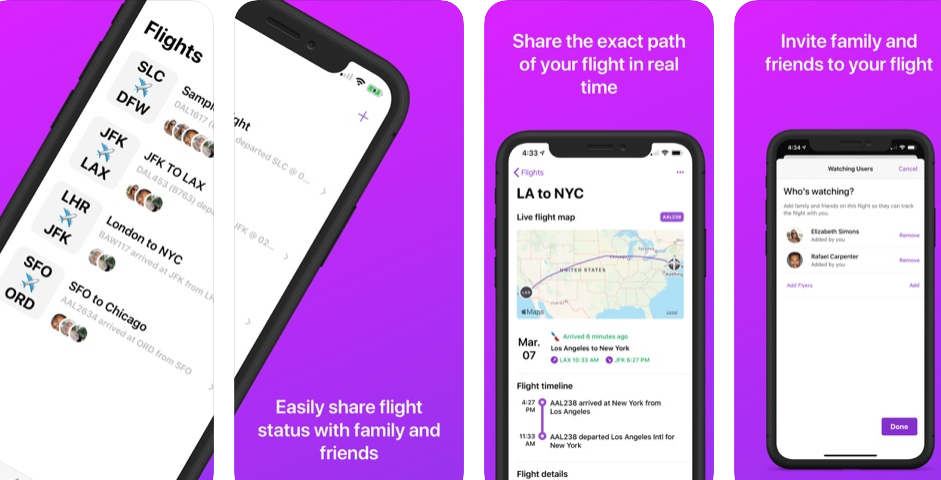 Given by Alpine Technologies LLC, the app Flights with Friends allows users to share the flight details with family and friends. Using this app, users will be able to share the perfect location of their flights, live flight map, timeline and the path it has taken in real-time. It gives other details like total flight time, time remaining, speed, altitude and a lot other information like weather, altitude, speed etc. The app has three columns namely: Flights, Notifications and Profile. With Flights with Friends, people can easily share the details of the flight they are about to take and also invite their friends and family to the flight.
Whenever there is an update with the flight, the app easily pushes notifications that can be sent to all family and friends. 'Flights with Friends' app is so easy to use and has a neat interface. It allows you to add the family and friends who are taking the same flight with you so that they will be able to track the flight along with you. It also tells about the weather condition of the airport you are destined to land in. This way, you will be able to be prepared regarding your mode of travel form the airport to your home.
This travel app requires iOS 13.0 or later and is compatible with iPhone, iPad, and iPod touch. The in-app purchases come for a price of $2.99, $3.99 and $24.99 for weekly, monthly and annual basis. When you have any suggestions or feedback regarding this app, you can share it with them as you contact them through email.
This live radar/flight tracking app is something that you must definitely have in hand. 'Flights with Friends' helps you keep your kith and kin informed about your plane journey then and there.
Worth Having app – Download the App