Do you know how much knowledge you have acquired about anything? It can be general knowledge, subject knowledge or any kind of knowledge. But, you don't know how much you know and remember the things until you assess yourself through a test. So we have an amazing fun app for you to improve yourself and test your knowledge. If you want to gain more general knowledge, then Mindoo is a brilliant solution for you! It's an application, which offers quizzes related to so many topics all around the universe! There are so many categories and their subcategories which you can choose and attempt the quiz. It's a great app to improve yourself and gain as much knowledge as you can!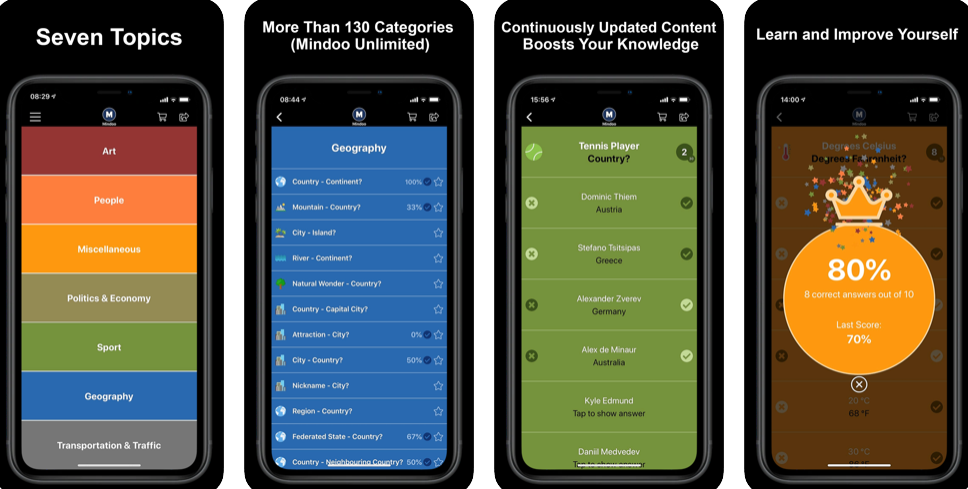 The Mindoo has been developed by Patrick Dittrich and falls under the Education category. Basically, it's a flash card game which offers you quiz and then gives you results. The app is free to download and also offers in-app purchases so that you can buy different packages according to your need. The interface of the app is quite good and neatly designed. Moreover, the app can be played offline, anywhere at any time.
The app allows you to learn from different categories such as Art, Sports, Politics and Economy, Geography, Transportation, Miscellaneous and many more. Once you open the app without any Sign In required, you can see the categories and click on any one of them. Then choose a topic on which you want to test your knowledge and start the quiz. Answer the questions and get the result quickly after the quiz. You can see where you are lacking and needs to improve or see if you have answered them correctly.
The Mindoo app is fully loaded with a number of categories and almost every topic has been covered in it. You can start with those categories in which you have less knowledge and want to acquire more! The app allows you to answer the questions which are related to only GK and interesting facts. The app comes with many options in its Home icon which displays, instructions, rules, minimum score per topic, the share button and a lot more. You can choose the game mode to be original or just shuffle. There are around 130 categories in the paid version of the app and it gets updated after a specific time and motivates you if you play it again and again.
Overall, I would say that the Mindoo is one of the best learning apps that I have come across.
If you enjoy learning in a fun way, then Mindoo is the perfect app to test your knowledge and acquire some. It's a fun, addictive and challenging app for the kids as well as adults and will help them a lot in future! I would highly recommend it to everyone and you will surely like and admire it. It will not only help to improve your general knowledge but also boost your confidence and test your knowledge!
Get the app now. It's available on the iTunes Store and Google App Store as well!
Worth Having App – Download the App