People enjoy listening to rain when they study, sleep or relax. Sounds of nature always help us relieve our stress. When you hear nature sounds, your mind reacts in a positive manner. We all are willing to hear the sounds of nature daily and return to the calmness away from this noisy stressful life. If you are one such person, then this app My Little Cloud is definitely the one for you.
Offered by KLED software, My Little Cloud belongs to the music & audio category. The app allows you to hear rain and thunder sounds. If you are someone who loves listening to these, then this app is definitely for you. The sound quality of the app is really great and it helps me do other things when it runs in the background.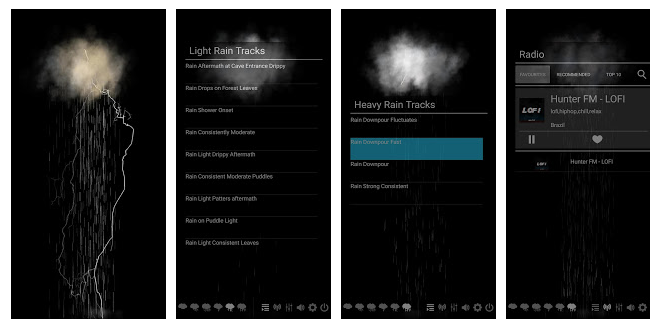 My Little Cloud has so many tracks of different combination of rain namely: Light Rain, Heavy Rain, Thunder, Thunder and Rain, Heavy Thunder and Rain. This is a thunder and rain relaxation app. All the tracks that are available here are of high quality ogg files. These are the ones that were recorded by Emmy-winner and the nature recording genius, Gordon Hempton.
My Little Cloud comes with many features that would make anyone love it. The app comes with a 3D cloud that appears on your home screen as you open it. When you play the sounds in the background, the animation stops to save the battery. It works perfectly well with other media players and you can tune-in to some low-fi music as you listen to thunder and rain. It comes with options that allow you to set rain and thunder loudness independently in a volume mixer.
It has a variety of sounds like Rain Shower Onset, Rain On Puddle Light, Right Light Drippy Aftermath and much more than you can ever imagine. My Little Cloud is suitable for all those who wish to hear some loud music. The best part of this app is where you can avail some of the premium features just by watching an ad per day.
It is definitely a must-have for all those who love thunder and rain. The look and feel of the app gets you into mood in just a few minutes. It can be used anywhere and at anytime just to pass the time the way you wish. It is suitable for download on all Android devices. When you have any queries or need to give feedback for My Little Cloud, you can contact the team on kledsoftware@gmail.com.
I was completely awed to see the plethora of sounds pertaining to the different places/situations with rain. When you use earphones to listen the relaxing sounds, you will gain a much better experience. Download the app now and enjoy the rain and thunder sounds the way you want.
Worth Having App – Download the App