When you fill out some online forms or give an address on the shopping website, you can see that when you enter the place you can get the exact zip code. Text descriptions of places are converted into zip codes in just a few seconds. All of this is achieved with the use of a perfect zip code API. There are many API's in the market but what matters the most is choosing the perfect one.
Finding the right zip code API will make your work a whole lot easier as you don't have to write codes from scratch. I chose an API named Zip Code Base for my development program and they got me real-time zip codes much faster. All the endpoint data are updated frequently.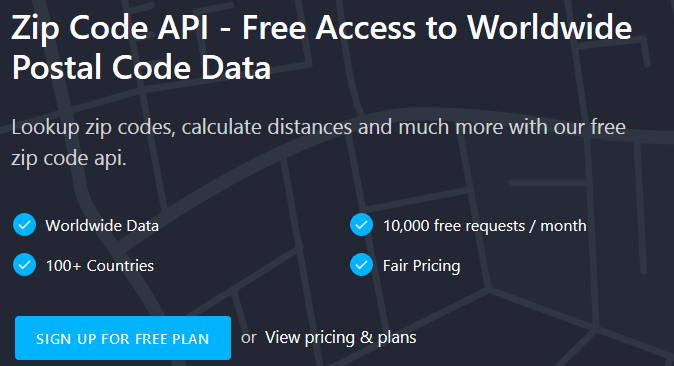 The most significant features of Zip Code Base are as follows:
A free plan is available for clients if they register, using which users can get about 10,000 free API calls per month.
The app supports zip codes in an easily readable JSON format.
With Zip Code Base, you will have to pay only for what you get.
The team's functionality and support are much impressive. They are ready to provide integration support with the software.
The team responds to the queries of the customers at the earliest instant possible. All that you have to do is, fill the contact form and send it to them.
The firm provides many different pricing plans for its clients billed on a monthly basis. The plans differ with the number of requests/month, HTTPS encryption, support, SLA and onboarding. You can either be a start-up or a large enterprise; they have a plan custom-tailored for each and every one of you. It comes with small, medium, large and custom plans with an amount with custom pricing respectively. A discount of 20% is offered to clients who opt for annual subscription plans.
With Zip Code Base, you have endless possibilities of fetching zip codes for your applications or data without any hindrance. What are you still waiting for? Get real-time zip-code data that meets your requirements with the ultimate https://zipcodebase.com/. It gives free zip code API data from over a 100 countries all over the globe with all the documentation.
With an easy to use API that is highly scalable, constantly updated and fairly priced, this would be the complete solution for all the zip code data that you require. 
Worth Having App –Try Webapp today