DottedSign developed by Kdan Mobile Software Ltd was certainly a head-turner because of the unique concept, which is, at least to me, a perfect solution for users. Now that it is making a successful impression on iOS, Android and Web, I can guarantee you that it does not disappoint. It is the smartest eSignature solution for users to sign, assign & manage documents online to grow your business.
You can Sign Documents Online & Save Some Time
DottedSign is an eSign service that professionally enables you to sign on documents, assign signing tasks to multiple signers, and track signing status right on your smartphones, tablets, and web browsers. Use DottedSign's mobile app to sign on documents or request signatures from others on the go, including NDAs, sales contracts, agreements, permission slips, and more.
With this app of DottedSign, you can escape the circle of scanning and faxing your paperwork, printing them out, and waiting for them to be delivered. Just import your document, sign or request signatures, and send. DottedSign is here to simplify your signature workflows and so easy.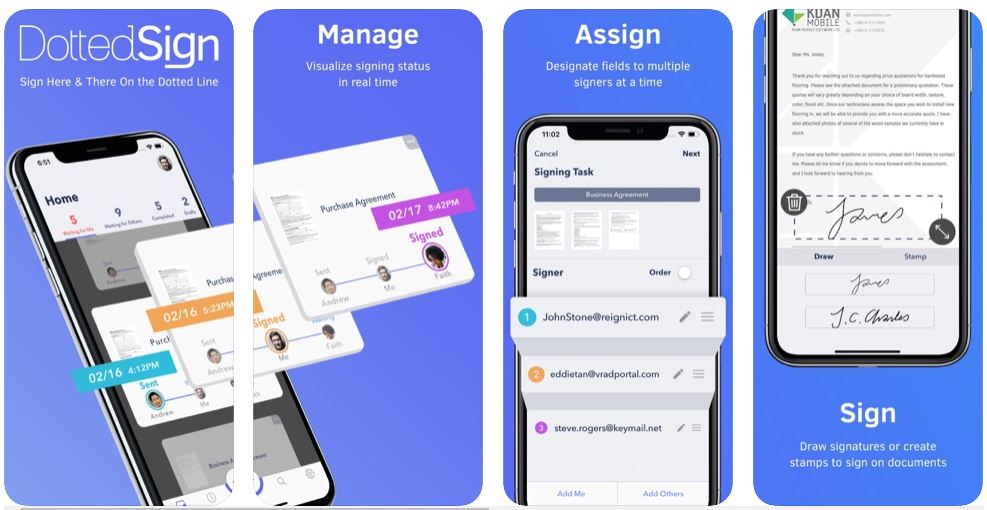 Your Business Flexibility, Simple and Fast
You can close deals on the go by signing remotely on any device or desktop via secure cloud with your customers anywhere, anytime. It is best to ensure your important business cases do not slip through the cracks. And it's now offering Business Plan for your team of 5! You can access all the advanced features with just $569.95/year; $79.95/month. Find out more here!
Boost Efficiency by Multitasking Documents at Once
Stop wasting time emailing signers, printing copies, and faxing paper. DottedSign gathers all signing tasks in one place, including those that are completed, waiting for you to sign, and waiting on others' signatures. Spend less time tracking down signatures and more time on your other, mission-critical, tasks.
Track Real-Time Document Progress with Automated Flow
DottedSign efficiently simplifies the process of remote business by automating your document delivery. You can track progress by checking each signers' status. Notifications and reminders will be sent to related parties by the server to keep everyone on the same page.
Important Features of DottedSign Import Documents to Start Signing
Get documents from camera, photos, and the local folder
Import files from email attachments, clouds, or other apps (Select DottedSign to open with)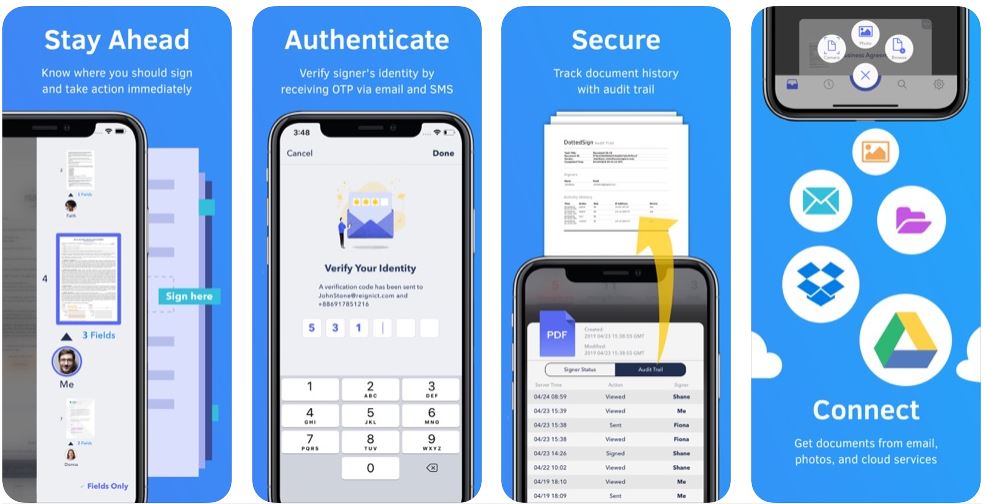 Get Signature from Multiple Signers
Invite multiple signers by adding from your contacts or entering email accounts manually
Assign various fields to signers, including signatures, texts, and dates
Set the signing order to dictate who has to sign the document first, second, and so on.
Thumbnail view – Indicate your signers where to fill in
Remote signing – Assign fields to signers in a designated order, including signatures, texts, and dates
Guest signing – Signers sign on your device face-to-face
Expirations & Reminders
Auto Reminder – Automatically send reminders to anyone who hasn't signed documents yet
Expiration – Set an expiry date for each signing task. Signer will receive email reminders.
Identity Verification with Secure Password
Sender – Require signers to enter OTP(One-Time Password) before they finish signing
Signer – Set and receive OTP authentication to prove your identity
OTP – The system will send 6-digit codes through emails and SMS messages
Manage Signature Tasks
Visual progress bar – Monitor signature tasks by checking all signers' status
Timeline – Display and record activities of all your personal tasks
Recipient Message – Leave messages to all signers along with the signing tasks
Send signing tasks via shareable links to sign them on the web browser
Change signer – Replace a signer of a sent document with another one; signer can send change requests to the sender
Personalize Your Signatures
Create signatures with free-hand drawing
Make stamps by using your camera or photos
Support to create transparent signature stamps
Pre-fill your personal information and quickly add it to the document
Add signatures, texts, and dates to documents
Security and Legality
Digital audit trails – Record every change made to the document for evidence
Protected signing process – Ensure confidentiality of paperless signing, encrypted by TLS/SSL, AES-256, and RSA-2048.
Sign legally – Enforceable documents as paper signing
Email secure password to identify signer identity
What's offered free in DottedSign? You can…
Sign unlimited documents by yourself
Assign up to 3 signers in a signature task
Create signature tasks and send up to 3 tasks per month
You can upgrade to DottedSign Pro to get advanced features:
Create unlimited tasks for signatures
Send unlimited tasks to signers
SMS secure password to identify signer identity
Access advanced signature fields, including checkboxes, radio buttons, and more
Protect your app from unauthorized users with a passcode
Reusable templates save your time creating tasks
Request attachments from signers
How the app works:
Access DottedSign on your smartphone or other similar devices. Now launch the service on your device and start using it. Along with this you also have web application to use. There are subscription plans for individuals and enterprises. Verdict
I highly suggest DottedSign developed by Kdan Mobile Software Ltd if you are searching for distinctive eSign service  features, you will love what this solution has to offer.