With the era of mobiles, games are a great way of pastime. You can be waiting at a counter, travelling in a bus or just looking for a game to relax yourself, this Marble Jetpack is something that you would never regret downloading. This is an action-packed arcade adventure game given by BB Electronics LLC.
Marble Jetpack belongs to the Adventure category in the Play Store. It lets you choose the marble you desire under the inventory section. The various skins of the marble available in the game are so good. It allows you to get trained and collect as many stars as you can in the first level. As you proceed through the next levels, you must blast your way through the sky, dodge the attack by the enemies, fire at them and so on. 
On your way you can locate the checkpoints and get more lives. Your must aim to collect/shoot down as many stars or enemies you can within the specified time. The more levels you progress, you will be able to gather many power-ups to keep going until you finish the game. The more you get past the enemies by shooting them, the more you will be able to score. The app has 'pause' and 'reset' buttons in the game.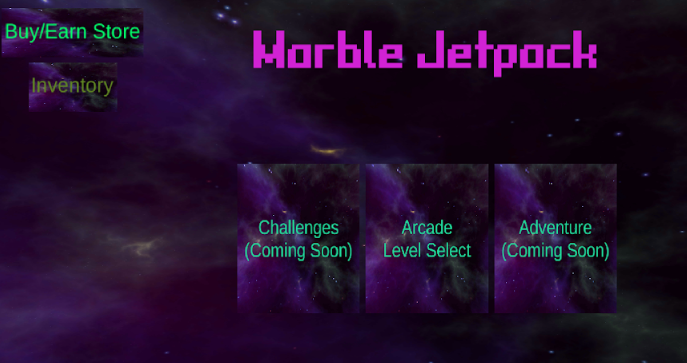 The background music is fast-paced and it keeps you going with enthusiasm. You can reduce or increase the sound while gaming. Every life you collect, the number of stars collected, etc are given on the gaming screen. The game play of Marble Jetpack may seem simple but each level is actually very challenging. The timer that runs at the top adds more to the adrenaline rush. The look and feel of the app is thrilling and it gives you the sight of fighter planes travelling in space. Kudos to the team for coming up with the concept of gaming with jetpacks. I am so excited for the other Challenges/Adventure mode of the game that is yet to be released.
Marble Jetpack works perfectly fine on all Android devices above 6.0 or later versions. It is free for download and comes with some in-app purchases. I enjoy the concept of watching a video to gather a life instead of waiting long hours to restore them under the 'Buy/Earn Store'. You can also make purchases of lives if you prefer. The app is suitable for both the kids and adults in the family. With awesome controls, good concept and neat graphics, this arcade game is something that you mustn't miss. 
Worth Having app – Download the app