Do you know that a meaningful relationship is very important between two people or a group of people? If there is no meaning or understanding between them, then it has no scope. This is true whether it's a relationship of a couple, a parent and a child, a businessman and his clients or his employees, etc. There should be a good understanding between them for the success of a relationship. If you know each other better, then there will be a good future and will be good for both of them. For example- if you are a businessman, you must know about your clients with whom you are dealing and meeting. Before you schedule a meeting with your clients, you need to get insights about the people and the companies you meet for a better experience. When you meet them you will feel confident and deal accordingly if you learned about them earlier. However, how will you get the information about them?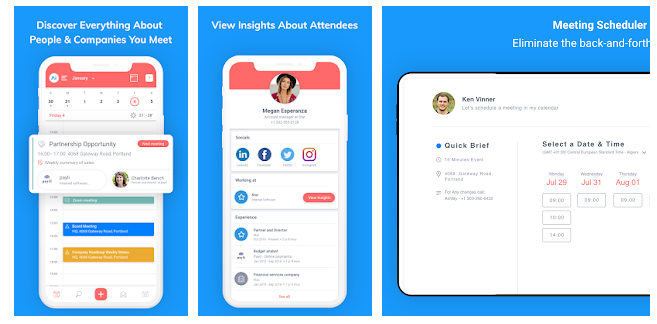 Browsing the Internet every time for getting the information won't be possible for you in your busy schedule. There are a lot of things that need to be searched, such as the company's profile, social profiles, job titles, contact's work history, education, and many more. So you need a tool that will compile all the information and brings it to you! Calendar.AI is such a brilliant platform that helps you to schedule your meetings in the most convenient way! It's a business calendar app and appointment scheduler that helps you to get the insights about the clients you meet. It helps to schedule meetings 10x faster as compared to the other tools and it works free of cost. The app has been developed by a company called Sync.AI and it's available on the Google app store for free.
You can schedule events within a few seconds with this app. Just set your availability and let the participants choose the best time to meet. You can also add video conferencing links via Zoom meetings, Google meets, Microsoft Teams and Skype. There are a lot of features of this amazing app. The weather forecast is integrated into the calendar app for better scheduling. You can add meeting minutes, agenda and private notes to the events, appointments and board meetings. You can also add multiple Google Calendar and Outlook Calendar accounts.
With Calendar.AI, you can save your time preparing your meetings in your calendar with enriched insights. You can quickly access employment history, social profiles, photos, company details, job titles, logos of all the participants in the meeting. When you learn about these parameters, you can easily conduct the meeting because you know them now, up to some extent. The app syncs with your Google Calendar, Microsoft Office 365/ Outlook Calendar.
Seriously, you will get to know about this awesome app when you install it on your device and use it for all your business purposes. I'm sure you'll love it!
Give it a try now! 
Worth Having app – Download the App