I spotted Siggy – Contactless Mail Sign app developed by J. C. Innovate LLC on the App Store last week while I was at browsing and I had to passionately download it and give it try myself. Needless to say, this accolade of gem does not disappoint me.
We know that signatures are the symbol of someone's identity and a sheer requirement for most of our personal and professional life. One of the scenarios is signing for mail and most of the postal consumers are not fans of it especially in this time of social distancing. The in-person contact could be unsafe for the mailman and customer.
Important Things You Should Know About Siggy – Contactless Mail Sign
Minimum Social Interaction
If you want to steer clear of physical interaction and perfectly looking for a secure, convenient & quick solution then try digitally signing for your certified mail. It is possible through Siggy – Contactless Mail Sign app.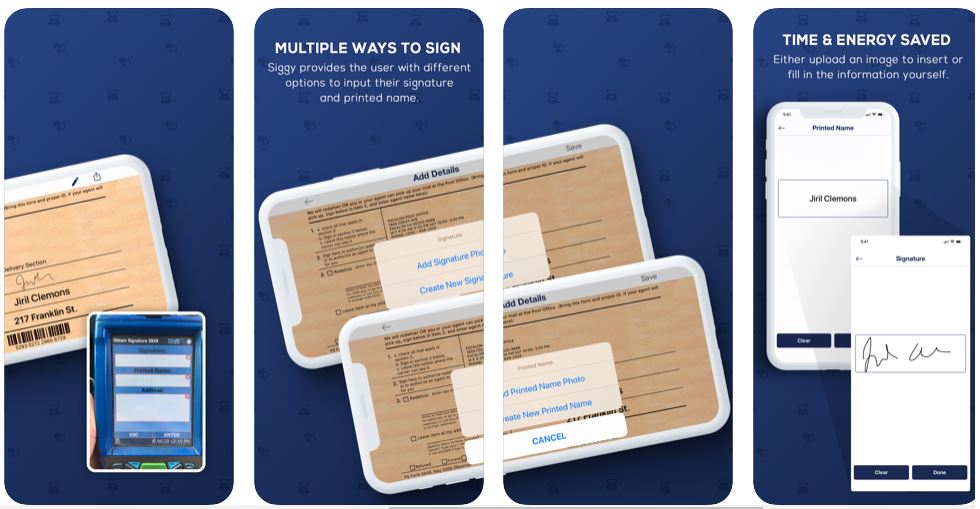 Contactless Mail Signature
Siggy is specifically designed to provide you with a perfect alternative to writing on a postal scanner. Siggy offers you with an intuitive and risk-free method of filling out and signing mails.
Pre Set Sign and Information
The app permits you to upload, save and your signature, printed name and address so you can do contactless confirmation through a mailman's scanner. Not only do you save time and energy but also manage and keep track of your mail through the apps Access History feature.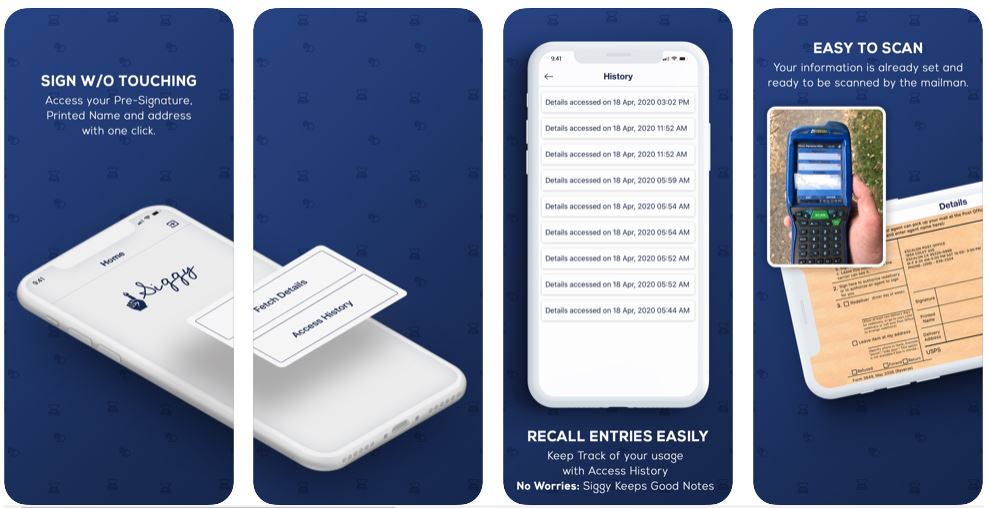 It saves time & Energy
If you feel the activity of mail confirmation signing redundant and mundane then this is your go to app. Save yourself time and energy and use pre-signed information and allow your mailman scan in seconds. In the present modern time of digitalization, why physically sign for a boring mail instead you can try Siggy app.
Siggy app is applicable and useful for following postal products
Certified Letters
Express Mail
Certified Envelops
Packages with Signature Requirements
The Features behind Siggy – Contactless Mail Sign and how it works
Siggy uses preset information to provide it to mailman's scanner in no time. Just set your information once upon sign in. Save your e-sign along with name and address. Information entered in the app becomes a digital replica of the postal form 3849. Moreover your information is accessible by mailman's scanner device in one tap.
Big Gift for Receptionists
Businesses can benefit from this innovative tech app. Businesses receive tons of mails requiring signatures. Pre set mail confirmation information can reduce the work for receptionists.
You can Keep Track of Mail Receipt
Besides convenience, the app keeps track of all the data and usage. You can view the entries in the access history tab.
Final Call
So, what have you decided? This Siggy – Contactless Mail Sign app developed by J. C. Innovate LLC can be your best friend in adding some comfort in your life and offer your Signature, printed name and address without having to physically write on mail carrier's scanner. The presence of multi features help users in many aspects. Also use Siggy up to four times free of charge and afterwards upgrade to Siggy Pro for Unlimited Access to its features.
DOWNLOAD FROM APP STORE: