Have you heard this famous proverb, "killing two birds with one stone"? What does it mean? If we alone are doing a task, it may take more time and the work is not done efficiently, but, if we together work as a team, we can do the task better within less time. Isn't it? For example- people work as a team in companies, big organizations so that they can work efficiently and effectively. Only one person can't do the whole job. Moreover, we require a single workspace for the whole team to work together. But, if some circumstances occur and you can't work at the same place and time and you need your team as well, then you can work virtually. Am I right? You can join meetings online with your team using Deskle Platform.
Deskle allows you to make meetings and brainstorming sessions much more engaging as anyone can jump in quickly and contribute via share link. In this way, you can improve your team's efficiency and productivity. You can work together, share your ideas, and models in real-time. It helps to save your time because presentations can be done online within a couple of seconds. You can build live content, create popups, tooltips, nested layers, modal boxes and add transitions. Not only you will create a good presentation, but also you will not get bored while doing it online. You can turn your ideas into actionable graphics faster. Your clients will be impressed and will be able to visualise the whole process. Sometimes, there are communication gaps while working together, but Deskle helps you to solve these issues and improves the vision of your team in a user-friendly way. It reduces the meeting times, missed communication, and unnecessary micro-managing.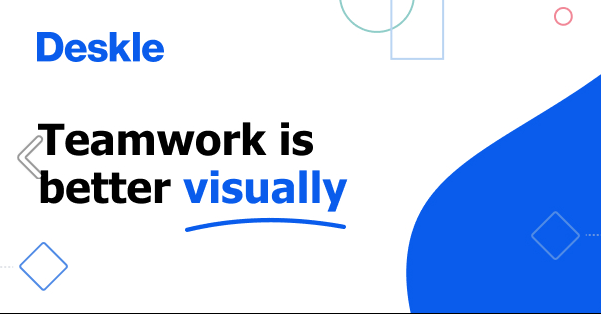 You will be able to integrate your favorite tools, support SSO and fetch and export data on real-time using Deskle Platform. The workflow of your team can be improved and the execution can be done more effectively and managed within agile teams. There are lots of features of the app such as it is having a rich templates library, custom API integrations and tailored visual framework present in the app. You can layer content and improve the perception of visual narratives and include interactive features to the content and create unique storytelling experiences. If you find any query regarding the app or need some support you can share your feedback or ideas with the team and contact them via message, chat or send an email. They are happy to help you.
Overall, Deskle has been just an amazing virtual whiteboard solution for working visually with your team. It's a safe and secure platform to use and keep your data safe and protect your privacy. It's available as free for 14-days. After that you will be charged for what you require at different pricing. Deskle is easy to use and has a user-friendly interface. Its intuitive interface simplifies onboarding. You don't require any kind of special training to start using Deskle. You can easily start by clicking its play icon and use. Just go to its official website and start.
Grab it now and work efficiently with Deskle!