Card games are always more interesting and when you play it online, you will be able to have more fun. You might have played so many online games with your friends or other players across the world but nothing could beat online poker games. Online heads up are so nice and it adds a lot more pleasure when you are capable of winning the game. Poker games involve skill and luck and not all poker games are the same. Only a few of them available in the market are secure and safe.
Showdown Poker is one such online poker game that I downloaded recently and it has become my new pastime. Offered by Showdown Poker LLC, the app belongs to the category of Card Games. This adult game can be downloaded on both iOS and Android devices. Home, Profile, Leaderboard, Friends and More are the menu items present in the app. To play the app, you must be an adult as it belongs to Gambling and Contests. The app does not ask you to purchase anything and the entire game depends completely on your skills.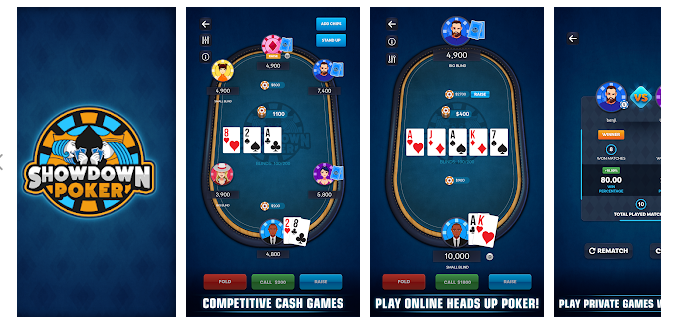 The game is free, so you can test the things out and get a feel for the game. There are three different gaming modes in the app: 'Heads Up Online', 'Cash Games' and 'Play With Friends'. When you play the Heads up Online in the app, you can aim to get the top rank and earns chips for tournaments all along the way. Cash Games allow you to play for cash using the S coins. All the leaders will be given a special reward when they stack up the coins and the winners will be announced on Facebook. There are options in Showdown Poker that allow you to Play with Friends. You can invite your friends to play some poker with them and enjoy the game to the fullest. Users can also call for a rematch with their fellow gamers.
Showdown Poker notifies you about the number of tournaments you have played so far. Your percentage wins ratio and your current position on the leader board are also displayed. Another interesting fact about the app is the concept of Daily Tournaments. Users can participate in tournaments every day and they will be given special prizes announced on the Facebook page. When you climb up the leader board, you will be able to win more special prizes and you can also take part in Sweepstakes Tournaments.
Showdown Poker is completely free for download and it is compatible with Android 7.0 or later versions and with iOS 9.0 or later versions. I recommend you all to download the app and I am sure you would never regret gaming with it.
Worth Having App – Download the App