The world of web design improves by leaps and bounds every year. Of course, these improvements and advancements are not simple. Top web designers have to rearrange massive sets of rules, procedures, and design code to incorporate these changes.
However, the rate at which the digital world is progressing is fantastic. No one cares about web designers who spend hours writing HTML5, JavaScript, PHP, or other codes. All companies want to stand out amongst competitors, incorporate the latest technologies, and create exceptional business websites.
Since mobile devices generate around 51.53% of worldwide website traffic, creating mobile-responsive websites is now a norm for most web design companies. Hence, even web design for smartphone devices is rapidly changing. Web designers have to adapt their design practices to incorporate the latest trends, customer preferences, and digital revolutions.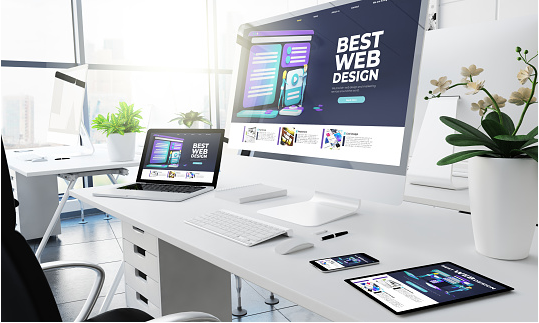 Not all of these web design trends are long-lasting. In fact, most of them disappear or become irrelevant after a few years. However, there are some stimulating trends that the best web design companies in London are looking forward to. Here are three of the most exciting web design trends every company or individual with a business website must be aware of –
Motion Interactivity
Websites with motion interactivity features can create remarkably aesthetic user experiences. However, incorporating motion interactivity into a website doesn't only boost a website's aesthetic appeal – it also adds immense functional capabilities.
In the past, motion interactivity features in web or app design meant the use of running hamsters or other simplistic design features. Modern-day motion interactivity in web design plays a key role in steering users to instinctively engage with certain website features or products.
No matter how low a modern-day internet user's attention span may be, their eyes simply cannot avoid following motion. Hence, the strategic application of motion interactivity on business websites allows businesses to steer visitors towards purchase decisions subtly.
Motion interactivity features in websites have the capacity to narrate personalized stories. Every move in a motion-interactive website follows a sequence. The automatic motion features act as innovative guides for the user. When used effectively, motion interactivity can not only enhance user experiences on the website; it can also influence purchase decisions.
Some motion interactivity features that top web designers use include –
Giving the Users Visual signals – Motion design guides users through website experiences. High-quality images, GIFs, or animations can make users intuitively aware about which areas of the website they need to focus, which dropout menu they need to click on next or decipher the central messages on webpages.
Navigation – Data analytics experts assess the deliberate motions or movements of users on eCommerce web pages to determine which products, services, offers, etc. they were most interested in. The power is completely in the visitor's hands. They can choose to click on whatever link or product they want on a webpage. With motion interactivity features, websites can control the way in which their visitors navigate the business pages. The inquisitive nature of internet users is bound to compel them to follow the navigational cues that the motion design features provide them.
Webpage Transitions –Motion interactivity features help users transition from one webpage to another in a seamless and uninterrupted fashion. These smooth transitions contribute to a website's user-friendliness. They also pique the visitor's attention. For instance, while scrolling down, a motion-interactive animation can show the user browsing down at the speed of light.
These simple yet innovative design features will be more common than ever in various business websites. A top-quality UI/UX designer can create synergistic web designs with motion interactivity features for both web andmobile. As long as the animations or transitions are subtle and engaging, business websites can provide unique user experiences.
II. The Rise of PWAs
PWAs or Progressive Web Applications are websites that feature all the qualities of mobile apps. Similar to smartphone apps, PWAs can send users notifications, work offline, and access the user's device. Users can even save them on their browsers. The average conversion rate for PWAs is 36% more than native mobile apps. That's why top businesses like MakeMyTrip, Twitter, Trivago, and OLX all invest in PWAs despite having separate apps. Investing in PWAs is a must for all businesses because –
PWAs are accessible even if there's no or little internet connection.
Despite featuring a design similar to mobile apps, they offer the advantages and functionalities of websites.
Easy to install for customers
Businesses don't need to deal with app stores to launch their PWAs
Can be installed on desktops
III. SaaS – Software as a Service
Lastly, SaaS or 'software as a service' solutions is becoming extremely popular. These websites act as software tools. They're directly accessible on the internet. Since there are no downloading hassles or storage issues, consumers love using SaaS tools.
SaaS platforms are very popular. The most popular SaaS solutions currently provide services like –
E-Learning
Booking Tickets
Scheduling Appointments
Bookkeeping Solutions
File Conversions
Email Services
Businesses must team up with marketing companies that have a strong grasp on these three vital trends!