If you are travelling for business or pleasure, it can be a fun or frustrating experience depending upon how you plan your travel. It is quintessential that you organize your travel so that you don't get into any trouble. Luckily, there are so many travel apps on the App Store to help us with this process. One of the best apps that I used recently to make my trips better is the Travi app.
Given by Giuseppe Lupo, Travi helps you to make a travel plan without any hassles. This travel app suits only iOS devices and is good for anyone who wishes to travel. If you want to visit any of the 6 cities: New York, Miami, Los Angeles, Las Vegas, Chicago and San Francisco, then this app comes in handy. Just let them know your travel ideas and preferences and make a schedule with Travi's recommendations.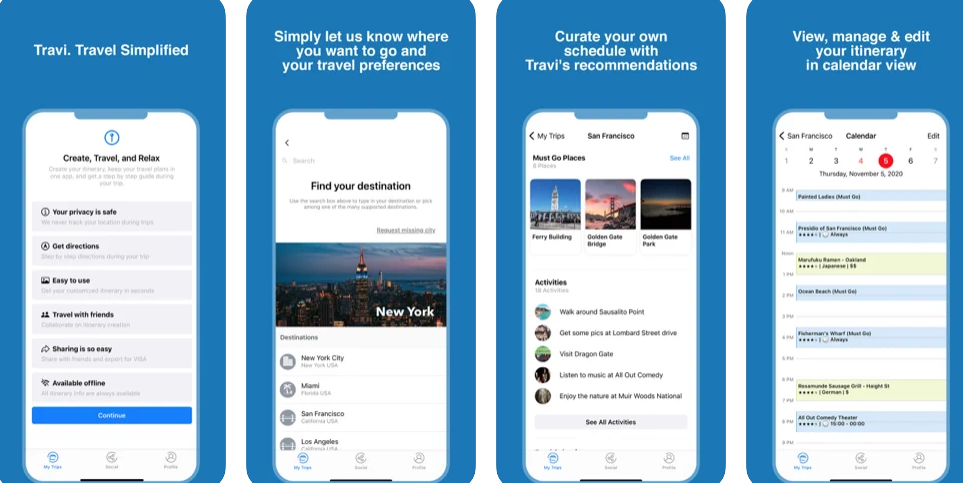 Travi allows users to make a personal itinerary for the next trip. It gives you all the suggestions that you need to carry out the different activities on your journey. It gives restaurant suggestions and must-visit recommendations. The open hours, the different selection of food options, the overview, map, website, phone number and everything you need to know about a particular spot is available in this app. Apart from this, transportation/travel guides are also present in this app.
It offers different travel experiences shared by the users to the community. Tips and guides from other travellers can also be viewed so that you can have a blissful travel experience. Travi provides a trip calendar overview in which the users can mark the date and time of travel along with the places they have planned to visit. Users can view, manage and edit the itinerary under this. The app makes it easier for the users to follow the schedule before and during the trips. Options to share the travel content are available with the share icon of the app.
Travi supports the following languages: English, Simplified Chinese, Spanish, and Traditional Chinese. The app is designed with a clean and neat user interface and so you won't have any trouble operating with it. The team is always open to your feedback and suggestions and you can send them your request to add other cities through the app.
Travi keeps you organized while travelling and it is a great time and money saver and keeps you relaxed too. It is a great tool to organize any trips, be it personal or business and keeps you on schedule.
Worth Having App – Download the App