Everything has gone online; school classes, shopping, socializing, including finding a potential romantic partner. Yet, many people are skeptical about using online dating websites or apps. Because physical interaction with the person is non-existent at the early stage, they wonder if it is possible or easy to start an affair on a dating site.
The truth is that physical courting is not easy to start too. So thinking one is above the other because of ease may be a fallacy.According to research made by the Pew center, 1/3 of American adults used an internet dating website. 12% of them claim to be in a relationship as a result or are married to someone they met on the internet. You may want to visithttps://www.pewresearch.org/fact-tank/2020/02/06/10-facts-about-americans-and-online-dating/ to read about the research.
Knowing what online dating involves will make it easier for you to understand whether it is easy to start or not. It also helps you to know how it might be better than physical courtship. In this article, we will discuss all you need to know about online dating, including its downsides.
What Is an Online Dating Website?
An online dating website is a website that is specifically designed for individuals to find friends and romantic partners. In recent times, this industry has gained a lot of popularity, especially during the pandemic. With the restrictions on public gatherings and the social distancing, many who were never a fan of using this medium are becoming regular members of popular dating websites.
How Does It Work?
To many, online dating is meeting someone online, and then courting the person in reality. This platform, however, does more than that. It gives users an ideal platform to meet different people with similar characters, likings, dislikes, and traits. It also offers users an improved opportunity to get the person they like to go out with them physically.
To get started, you must create a profile on such a site. But you should avoid giving out way too much personal information to avoid scams and fraud schemes on the site. To enjoy such online platforms, it is important to use them safely. You may want to visit this website to get safety tips for starting a relationship online.
Online Vs Traditional Dating – Which Is Easier?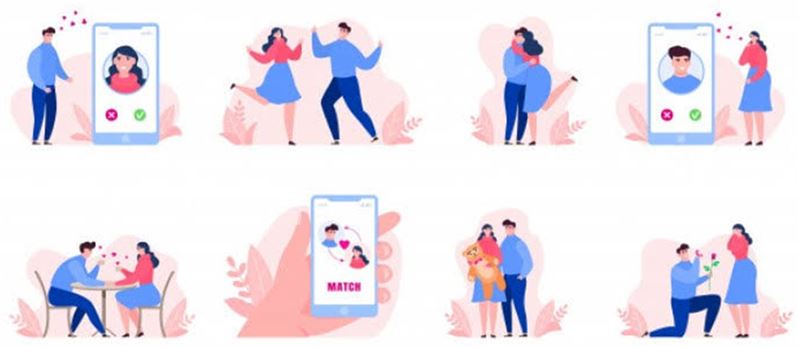 To help you deduce whether online dating is easier than traditional methods, let us compare the advantages and cons of both and how they relate to each other.
1. Location
In the case of traditional courting, the two parties are most times from similar locations. It could be that they met their partner in school, workplace, through a friend, a restaurant, or at a party. With online dating, however, it is easy to find dates from a totally different location. It can also has a more global coverage than the traditional type.
2. Time Frame
With traditional courtship, it naturally takes time before two persons can decide to go out on a date. But it is much easier from a website. After a couple of minutes or hours of chatting, the two individuals can decide to meet each other.
3. Knowing Each Other Better
It is more difficult to know everything about the other person on a traditional date. This might be due to the environment or because on a first date, many people tend to be reserved around the other person. Online dating sites make having an affair with a stranger easy, as people can chat with each other with no problems. It also lets the two individuals get to know each other's personality, interests, and religion through chats before they finally meet physically.
4. Deceit
One downside of getting to know someone on the internet is the deception of either party. They can lie about themselves or send images that do not have an accurate representation of what they look like. Most websites dedicated to setting up a date between two persons do their best in ensuring the transparency of registered members.
It is no surprise there are interviews and physical verification before members are accepted by these websites.Still, deception is one disadvantage of internet dating. But with a traditional date, there is more transparency by the other individual as you can see what they look like physically. Also, from conversations, they can know each other's personalities.
5. Getting Someone with Similar Personality
It is easier to get someone compatible and with a similar personality on online platforms than traditional dating. With search filters that help to personalize search results to what you want, it is easy to get someone with similar interests.
But with traditional means, you may have to go for several dates before you finda matching personality.The profile description and chats with someone on the web will let you know more about their opinions, interests, and character.
6. Shyness
For those who are shy to meet other people, the Internet is a haven. They can freely express themselves and what they feel to the other person. If the person doesn't return the interest, you can say thanks and stop the conversation. You may also want to visithttps://startingoverworkshops.com/2017/07/23/online-dating-2/ to read more about the advantages and disadvantages of digital dating.
Conclusion
Is dating online easier? Of course, it is. But if you are yearning for a serious relationship with the other party, both traditional and on the internet have the same challenges. But you can start a relationship on the internet, and then take it to the next level through traditional means.