Are you interested to enhance your experience with Gift Wrapping?
Augmented reality (AR) involves overlaying visual, auditory, or other sensory information onto the world to enhance one's experience. Won't be interested if the same is applied in gift wrapping as well. I am sure it will be for sure a big yes. Good news to all the gift lovers in this world. This AR application will for sure keep you excited with the gift wrapping ideas with AR technology. You can watch your gifts live packing with your choice of gift wrappers. Wrap a real object in a virtual gift wrap. This application works best with rectangular packages, flat vouchers, and greeting cards. Different gift wraps are Christmas wrap, Birthday Wrap,Halloween wrap etc
Highlights of AR Wrap
Virtual wrap for real gifts
Share the virtual gift wrap with your friends and family. Add a personal touch and feel close to your loved ones even when you are apart. Have fun!
In version 1.2 we added a new feature: wrapping without a real object. You can now create gift wraps. The recipient will see the beautiful gift wrap on a horizontal surface, i.e. a table. This mode is ideal for vouchers and greeting cards.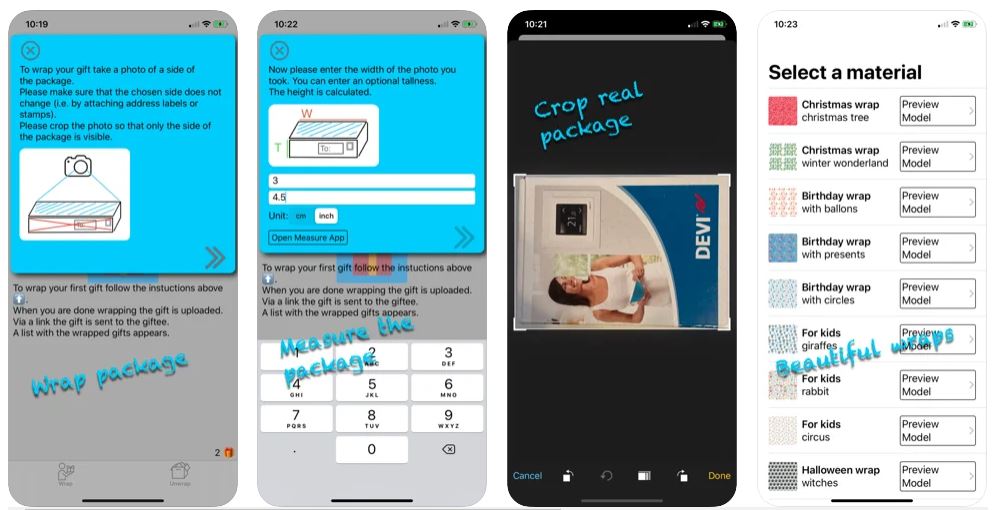 Advantages of AR Wraps
Adding a Virtual Element to Your Packaging. …
Attract loved ones
Stand Alone From Competitors.
Adding Augmented Reality is Easy. Just with few steps
Product Visualization.
Update Your AR Content Without Having to Repackage Everything
AR wraps – How does it work
It measures the  real-world object or just create a gift wrap.
Then select a wrapping material from the selection of beautiful materials, you can also use your photos as a gift wrap to be unique and create much closeness.
Next pick the wrap the real-world object virtually send to the recipient (first the real-world object, then the virtual gift wrap)
And finally, send the link  through e-mail, iMessage or What's App.
Unwrapping:
After the recipient received the real-world object and the link to the gift wrap she/he can see the wrapped gift in an augmented reality scene. Naturally, the gift can also be unwrapped.
If you send just a gift wrap the recipient can see the wrap on a horizontal surface, i.e. a table.
Verdict
At long last, AR Wraps is one such delightful thought of gift wrapping with Augmented reality. I love this imaginative plan to come clean with you this awe-inspiring application was so remarkable and is the best application ever. Rapidly download from the Play store and partake in the working. The developers just nailed it. Love this application to the core.
Download :