Do you have an elderly person at home or living somewhere far away from you? Do you often worry about how they are doing when no one is near to take care of them? If you need assistance to take care of the elderly at home, then this app is the perfect one. It keeps all your worries at bay and ensures safer independent living for the elderly.
Given by Dooinwell, the app is designed for iOS users. It helps you monitor one adult by an unlimited number of relatives. The app pairs with the rest of the family with the Dooinwell link app. It assists the elders in the family by helping them live safer on their own. The app allows the members of the family in knowing if an older adult who is on his own is having any unnoticed event in-between calls or visits. It works by testing the active engagement of the older adult and alerts the families if they have any safety issues.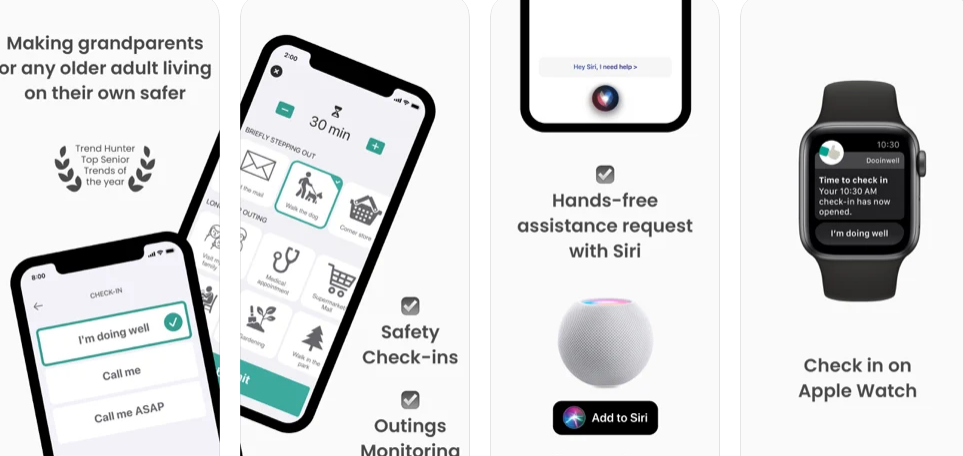 The app gives a new routine to your parent where he or she has to check in the app a few times within certain time slots. The app has some templates that let you know what they do in just a few clicks like gardening, visiting the corner store, walking the dog out, taking a stride in the park and so on. This helps them sort out their regular activities.
Dooinwell comes with so many notable features like allowing the users to check in on the Apple watch. It supports kiosk mode and ensures that it comes with larger text sizes for people with vision problems. Users can also ask for a hands-free assistance request with Siri. Alerts on Dooinwell are delivered to your iPhone, iPad, and Apple Watch, and if the situation is critical, the app displays and plays a sound even on a device that is in Silent or Does Not Disturb mode.
The app ensures your privacy and you need not worry about your personal information being shared. Relatives only get to see the check-in information of the adults and they can view the private information only when there are reasons to worry like device geolocation, declared out-of-home activity, delay in the expected activity time and so on.
Dooinwell is completely free for download and requires iOS 14.0 or later versions and requires macOS 11.0 or later and a Mac with Apple M1 chip. In-app purchase of the app comes for a price of $6.49 (monthly) and $52.99 (annually). The subscription-based service offers you a 2-month free trial. The team of Dooinwell is open to suggestions and you can write to them at support@dooinwell.app.
Download the app today and ensure that the elderly are living fine while you can't be with them.