Do you know what is going on in someone's mind until you ask them? When you start a company, organization, an enterprise, launch a product, service, etc., you need some new ideas that matter for you. However, it's impossible to ask everyone for ideas in your organization. Ideanote is an online platform where the employees can submit their ideas regarding anything. It's like a suggestion box of a company where you can put your ideas by your choice and they will be processed automatically so that the company saves time.
Ideanote is an innovation-management software which focuses on enhancing idea creation while saving working hours as well as creating an innovative organization culture.
Basically, Ideanote is being used by the professionals for knowledge management, business process management, feedback management, and project management, etc.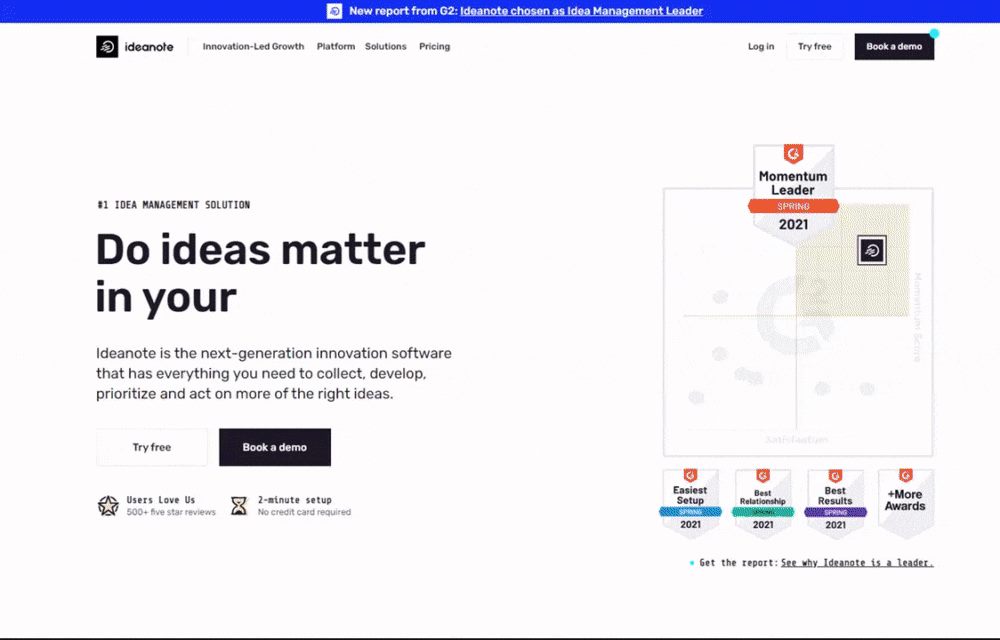 It gathers and chooses the best ideas inside your organization. It's a user-friendly tool and an intelligent software that makes your work easier.
It lets you collect an unlimited number of ideas from a number of people. The process is very simple. When you ask your employees for ideas, they use their mind and it becomes a challenge for them. The challenge makes people think and generate ideas, solves problems and creates exponential growth within the organization. It's an innovation process where the users are rewarded with points when they contribute with ideas. If you give high quality great ideas, you will get more points and so on.
Sometimes, there are ideas in the mind of some shy employees and they hesitate to talk about them. But, with the help of Ideanote it has now become easier for them as they can contribute with their ideas and practical solutions. So a good idea never gets wasted. Ideanote is an easy as well as an efficient platform for both the company as well as their employees. With this you can always post new challenges on Ideanote and start the value creation of ideas.
The app follows some easy steps to get the ideas and makes sure the best ideas move forward:
Collect- the app launches goal-driven idea collections with ease.
Engage- Involve more of the right people in your innovation.
Manage- develop, prioritize and act on the ideas in your funnel.
Measure- celebrate and track your innovation impact.
Automate- save time and streamline your workflows.
All the data is set up in visually appealing graphs which can be found on the dashboard. So you can compare the ideas on Friday with the ideas submitted on Monday. Ideanote is available on all the devices and browsers, which makes it incredibly flexible. You can easily access the app on your phone and tablet, whenever an idea comes in your mind and then submit. There are so many options for submitting an idea, you can send a text message, leave a voice message or an email when you get a great idea.
Overall, Ideanote is an amazing innovation-led growth platform where new ideas are explored which matters for your business, service, enterprise, product or any other organization. New ideas will lead to new innovations, new changes and a new environment with Ideanote. Give it a try now!
Pros: best way to get new ideas; user-friendly interface; unique process to get ideas from employees; help for every organization; free to use.
Cons: none.
Worth Having App – Download the App