Trading is a part of every businessman's life. But it's no longer limited to the business class and has become a part of the common man also. Most of the people working in companies usually invest a part of their earnings as shareholders of the big organizations and they also earn a decent amount by doing that. However, it's not so easy to earn that decent amount, it requires time, effort and involves a lot of risks. You need to keep yourself updated with all the latest changes in the stock prices and buying shares at the right moment is a must for a good trader. So not just checking out the stock prices on your iPhone or iPad is enough. If you can do the transactions as well, only then can it be considered a good app.
Now, it's all possible with PrimeXBT. PrimeXBT brings you a powerful, award-winning crypto trading platform to your mobile device, and allows you to access global markets. You can buy, sell, hold, and trade cryptocurrencies on the app. With PrimeXBT, you will be able to track the performance of Covesting strategies you have invested in. The app has been developed by Prime XBT Trading services ltd. and available on all the latest iOS devices.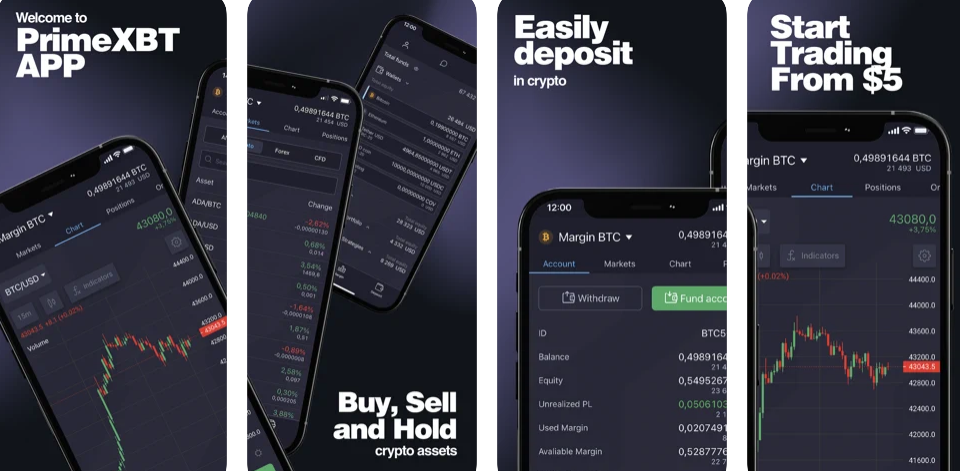 How to install the app and use it?
You can find the PrimeXBT app on the iOS stores very easily and install it on the device by simply downloading the Prime XBT app on your iPhone.
To begin with Prime XBT, you need to register yourself. The registration on the app is very simple and fast.
Now open and tap "Open free account".
Now create an account with your email address, phone number and tap " Register".
You will be asked to set a password and will be asked whether you want to set up biometric account authentication for added account security.
Then verify your email by entering the PIN sent to your inbox. Select the country and tap "start".
Now you will have to link your bank account by entering the username and password you use. That's enough and now you will be redirected to the main page and start buying currencies.
The app uses fully encrypted and integrated iPhone technology like your fingerprint via Face ID or touch ID. The minimum amount to start crypto trading on PrimeXBT is $5. It's a reliable crypto trading platform. You can make all the deposits and withdrawals in BTC, ETH, USDT, USDC and more. Across this trading platform, mobile app as well as the main website, the system uptime has been 99.9℅ over the last 3 months. It has a dedicated account manager, a covesting copy trading module and a roadmap filled with constant innovations.
There are a lot of benefits of using PrimeXBT:
It provides 24/7 live customer service.
There are no system overloads and server downtime.
You can buy, hold and sell cryptocurrency.
You can start trading on this app with as low as $5.
There are no hidden commissions.
You can monitor your portfolio and hold crypto with multi-currency wallets.
Deposits and withdrawals in BTC, ETH, USDT, USDC and more.
The app is safe to use and has industry-leading security.
Enjoy tight spreads starting from 0.
Overall, it's a high-performance platform, fast order execution, has low fees and an intuitive and user-friendly interface. Prime XBT has greatly expanded its crypto offering and now it offers around 80+ crypto-to-crypto trading pairs that can trade for bitcoin and ether. But, remember the most important thing about investing is never invest any more than you can afford to lose. It provides access to real-time market data and a wide range of trading tools while maintaining security as well as liquidity to enable a safe and secure trading environment for everyone. Give it a try now!
Pros: buy, sell and hold cryptocurrencies; industry-leading security; user-friendly interface; a lot of benefits; make easy deposits and withdrawals; low fees; safe and secure.
Cons: none.
Worth Having App – Download PrimeXBT iPhone App