More proudly to say that this The ASL App is adeptly made by Deaf people for benefit of users, thereby one can easily learn conversational ASL right now, on the go, with all phrases and signs organized to make it simple for you to learn.
The ASL App is professionally designed to assist you to learn a new visual language in a way that is simple, intuitive, and also well-paced. Moreover, you can drag your finger on the videos to control the speed so wholly at your pace. You have a search index when you require knowing a sign right away, a slow-motion option, info tips, and a favourites folder.
It is also elaborated that one can save the signs you wish to review again in your own favourites folder where you could go back to it and practice more. Moreover, you can upload different signs you've learned to Twitter and Facebook. Thereby effectively share with your friends, make learning ASL fun, and progressive.
The ASL App Pack provides you with everything the whole collection of presently available bundles and future releases.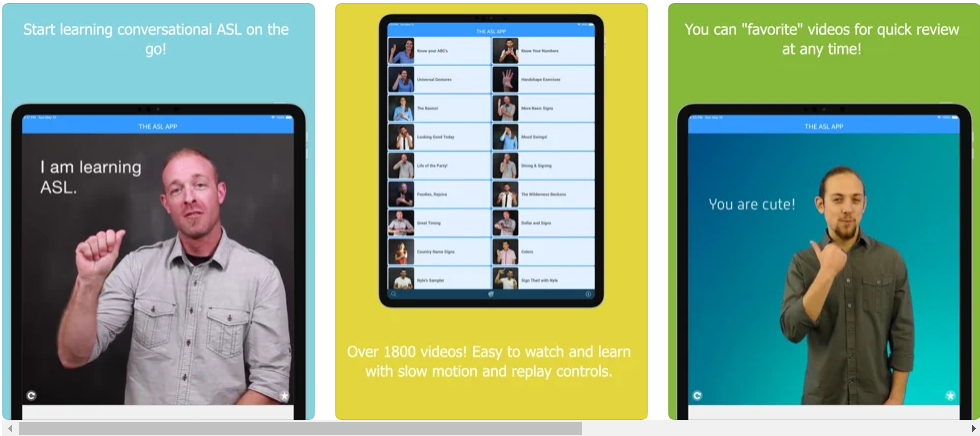 Bundles to Know About
Know Your ABCs – Learn the ASL alphabet included, Free
Know Your Numbers – Learn all the numbers included, Free
Universal Gestures – Review what you already know included, Free
Handshape Exercises – Warm up your hands, and get used to the different handshape positions. Get your muscles to become fluently aware included, Free.
The Basics – A good way to get started included, free
More Basic Signs Again, a collection of more basic signs -Paid
Looking Good Today – A collection of signs that is related to looks, fashion, and different complimenting phrases. Paid
Mood Swings – A collection of signs for different moods, emotions, feelings. Paid
Life of the Party – A collection of signs/phrases designed to fit what will be said at social events, or at bars. Paid
You also have a bundle of Family Signs. This bundle will teach you the signs for family members: immediate and extended, loved ones and even your nosy neighbours. Family Milestones & Life Events – You'll learn signs for marriage, wedding, divorce, children, adoption, pregnancies, and much more. You can also come across Bundle for Pop Culture and Social Media about what's current, popular and trending? Nyle shows you the signs from 3D movies to buying tickets for Broadway.
More Bundles
Sign and Vote – Learn how to say register to vote and how to sign President, blue or red states, and many more!
All about Sports – Learn signs to use with your fellow sports fans
Education & Higher Education – Learn all about those signs used in Education
LGBT & Pride -Learn all about Pride and LGBT signs
Emergency Signs – Learn signs to use in first responder or emergency situations.
Get started now and download and get your first bundle of signs today.
Altogether, if your business is looking for App Promotion Services don't hesitate to enlist extra help from GegoSoft.
Download: