Online fax services let you easily send and receive fax on your android devices. It lets you access all the faxed documents just from your mobile or tablet at the place of your comfort. There might be many apps in the Store, but not all of them offer the plethora of functionalities that you need. Smart Fax: Send Fax from Phone is a free fax app to receive and send a fax on Android.
Smart Fax: Send Fax from Phone is one simple, safe and faster means to send faxes. Given by the team of Hypereact, the app is created to let users enjoy the happiness of technology. The team always focuses on product innovation and they make apps that are simple and easy-to-use and cost-effective. Smart Fax: Send Fax from Phone is one such app as it gives you the privilege of saving your precious time and money.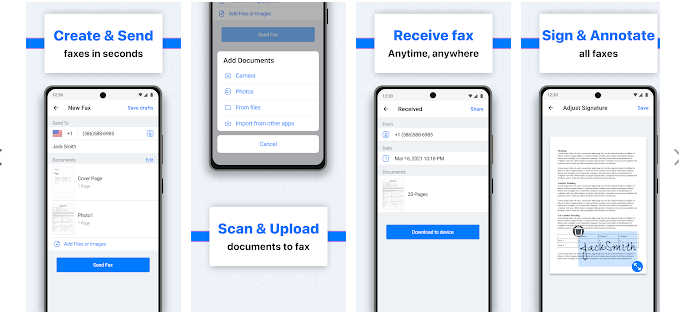 Smart Fax: Send Fax from Phone allows users to make use of the device's camera to scan documents, use the device's storage to upload files from your phone or from the cloud storage, Dropbox and Google Drive, and so on. This app allows you to create and send faxes in just a few seconds. Users can send the documents to more than 100 countries, making them HIPAA compliant. PDF, JPG, and PNG file formats are supported by this app.
Documents can be scanned and uploaded from the camera, photos, files and can also be imported from other apps. Faxes can be received anytime and from any place and they can be downloaded to the devices. It even puts up a cover letter for you which comes in handy when you want to send professional faxes. Be it books, receipts, sticky notes, photos, IDs, passports, whiteboards, posters, cards, letters, newspapers, screens, licenses, menus, certificates, sheet music, anything can be sent with this app.
Sign and annotate all the faxes and you can adjust them accordingly as per your preference with this tool. Apart from this, users will be able to track the faxes as to when they were received. Faxes can be previewed before sending and this free fax app lets you send faxes completely free for one single day. The team can be contacted at hypereact.ios@gmail.com to know any information. The high-quality, clean, and sleek interface of the app makes it the easiest to use.
Available completely for free, the app comes with weekly, monthly, and yearly subscriptions. It is compatible with Android 5.0 or later versions and is suitable for anyone who desires to send a fax. Get Smart Fax: Send Fax from Phone today and enjoy faxing on the go.
Worth Having App – Download the App