You might be an independent buyer/seller or a contractor, you would require an estimate to send bills to your customers. If you have an online estimate/invoice maker your transaction steps would be a lot smoother and you can remove the risk of sending any unwanted costs to the seller. The app should help you do the hardest part of making an invoice according to your preferences without needing to download anything first. Invoice PRO – Estimate Maker is something that users will love for sure. This app makes the process of invoicing a breeze and it becomes a faster and simple process.
Belonging to the Business category, this app will be suitable for people doing small and medium-sized businesses, entrepreneurs, contractors, self-employees and so on. Using Invoice PRO – Estimate Maker is as simple as that, all that you have to do is just create the invoice, add all the details you prefer and later on save and send them to the clients. Estimates and invoices can be created from anywhere and you can save a lot of time and money using this app.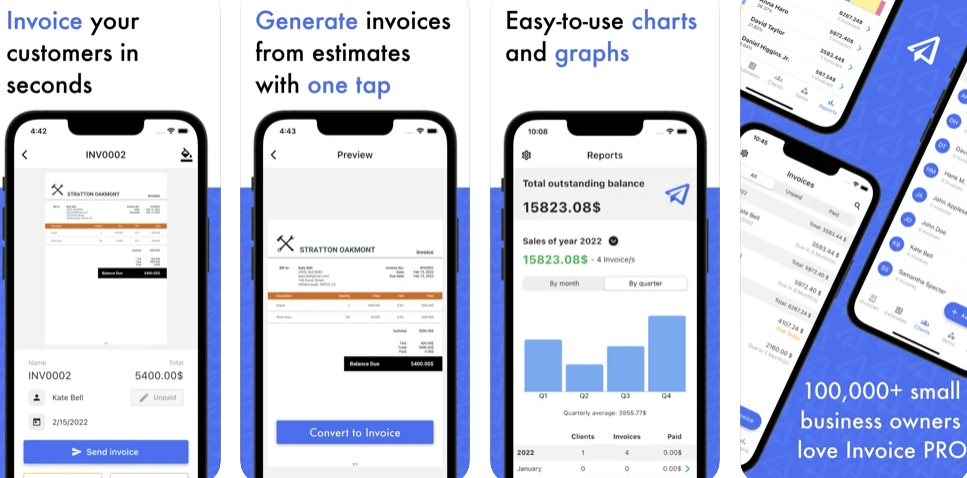 Invoice PRO – Estimate Maker is very professional and easy to handle with a smooth interface. Estimates and invoices can be done in a few seconds and sent in real-time. The templates in this app are so well-designed and they help you add a much more professional look to all that you create and it is customizable. Users can include payment information, taxes, withholdings, due dates, extra images, discount, signatures and more. The most impressive feature of the app is that it notifies you when the customer receives and opens your invoice.
With this app, you get to save a lot of time, look professional and also stay organized. Users can either download the invoice as a PDF file to print it or directly email the completed invoice to the clients/customers. Every invoice is differentiated from one another with the number it has. The app lets you add an invoice number and so many other details with all the necessary options for that. Our free invoice generator can help you add that easily. Users can sync as many devices as they want with one account. The team offers 24/7 customer support to cater to the needs and queries of their customers. Users can track their income with a report that comprises charts and graphs.
Invoice PRO – Estimate Maker is completely free to download and the users can choose to purchase the premium versions of the app that come for a price of $98.99 and $12.99 which you can choose according to your preferences. This app is excellent, friendly, seamless and does the job perfectly fine. Invoice PRO – Estimate Maker would be the easiest invoicing app you would have ever used.
Worth Having App – Download the App