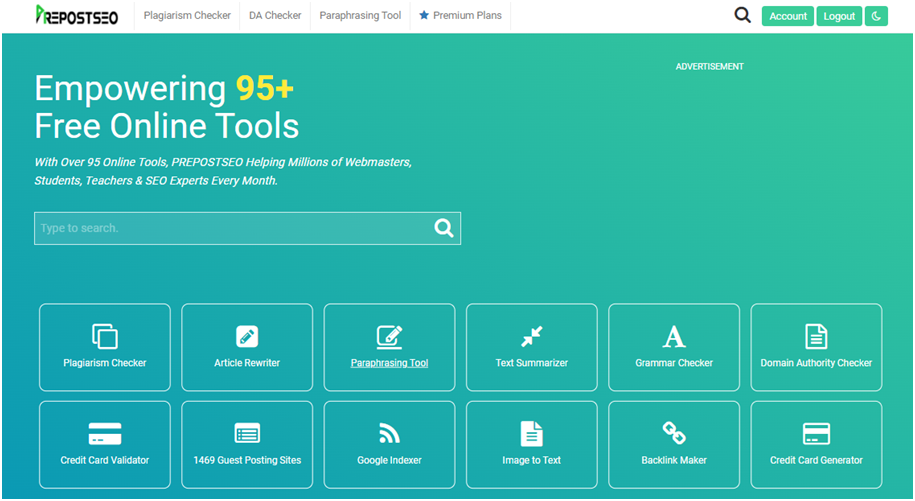 Becoming a search engine optimization specialist can be a challenge if unfamiliar with the proper techniques. Stepping into any field requires prior knowledge and guidance to achieve the best of our potential.
Learning about a new line of work has to be more of an educational journey. In such a case, one must rely on an online tool with complete confidence to operate and learn about its functioning.
With a convenient SEO solution platform like Prepostseo, a beginner user can turn into a professional by bringing the best outcomes for excelling in the ranking of a website. It offers complete search engine optimization solutions on one platform.
In this article, we will go through the online services and utilities offered by Prepostseo and how they can benefit us to improve a website's ranking.
We will also talk about the importance of search engine optimization and how Prepostseo can increase our website's ranking.
Why do we need SEO tools?
Search Engine Optimization tools save us a lot of time and effort of manually going through each step of improvising the performance of our website.
Realizing that "Content is King" is vital to maintaining the quality and quantity of information available on our website. In that regard, there are tremendous benefits of using online-based SEO utilities, which we're going to mention below:
Keyword density: SEO tools can tell us how often we need to use a keyword in our content. Using web-based SEO applications, we can perform a keyword density check on our competitors to compare the performance and quality of our websites.
Plagiarism check: It is one of the most common yet essential functionalities of any search engine optimization tool. The top priority of SEO experts is to upload unique content. With the help of the plagiarism checker app, we can evaluate our content to avoid search engine penalties.
Paraphrasing: Where SEO tools provide services to check plagiarism, these applications also assist us in dealing with it. A paraphrasing tool is a beneficial option to achieve uniqueness in content without changing its meaning.
Grammatical check: While focusing on the uniqueness of the content, it is also essential to maintain the quality. Content that adds value to the website has to be free of grammatical mistakes. Grammar checkers ensure quality content that features concise and factual information.
Domain and Page Authority Check: DA and PA are the parameters that define the performance of a website and its position among the Moz ranking. Based on the information presented in the results, we can evaluate a website's ranking among SERPs.
Link building: An excellent optimized content includes backlinks to assist users' queries. However, it is essential to have the backlinks relevant to our website's niche. We can gather backlinks from top-ranking pertinent websites to our domain using Search Engine Optimization tools.
Now that we have discussed some essential features that can assist in improving our website's SEO, let's talk about the reliability of PREPOSTSEO services. We will go through each segment and work on why it is preferable for numerous SEO experts.
Standout Features of PREPOSTSEO
The features we are going to discuss would be based on free usage. Initially, every writer is trying to avail of optimization services for free. Therefore, we will discuss the reliability and efficiency of services offered by Prepostseo without registration.
1. Plagiarism Checker
Prepostseo plagiarism checker offers us many services without paying a single buck or account registration.
Bloggers, students, teachers, researchers, and writers should make their content unique. The following factors define the reliability and compatibility of this platform:

The interface of this tool is straightforward and offers file-sharing options from various sources like Google Drive and OneDrive. To check plagiarism, we can paste text directly or upload a file containing text under 1000 words.
Under free usage, the application allows us to check plagiarism of 1000 words per usage. We can use this tool as many times as we want as there is no hourly or daily limit.
Once we have checked plagiarism, the website provides a detailed score and matching content from online sources.
We can choose to download the report in various file formats. Like plagiarism checkers, this feature won't cost us a single cent.
The report generation feature is handy for students and publishers to prove their content's uniqueness.
The tool offers support in various languages, including Spanish and Arabic writing.
If we want to exclude a specific URL, we can mention it in the filter box.
This plagiarism checker offers free plugin support with WordPress. Without switching platforms, content writers and bloggers who work on WordPress websites can benefit from this feature.
This service is also available as a mobile application for Android and IOS platforms. All the services discussed above can be used on mobile applications as well.
With this platform, the report generation and content checking are 100% secure as it does not save user data in its database. The report remains on the website until the user downloads or deletes the results.
Features compared to Quetext
Quetext is well known to provide plagiarism checking services with descriptive report generation. But when it comes to free services, Quetext lacks a lot of features as compared to the Prepostseo Plagiarism checker: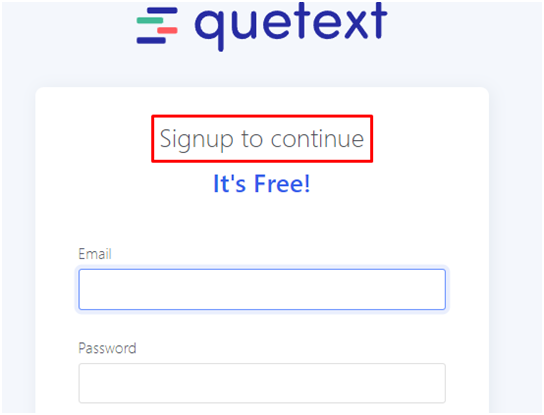 We can only check plagiarism once if it is not registered.
If we want to download or generate reports, we may have to avail paid subscription.
There is no option to upload files under free usage.
Even with a benefit paid plan, the website takes a while to generate results.
Once they have registered, the website saves the plagiarism reports on the user account, which may not be a safe option for some users.
2. Grammar Checker
Proofreading our article can be a hectic job, especially when meeting deadlines. Writers, students, and journalists may run into making a few mistakes while typing.
It is convenient to use an editor that pays attention to the text in detail to overcome this issue. Prepostseo online grammar does not require installation and provides hands-on correction service free of cost.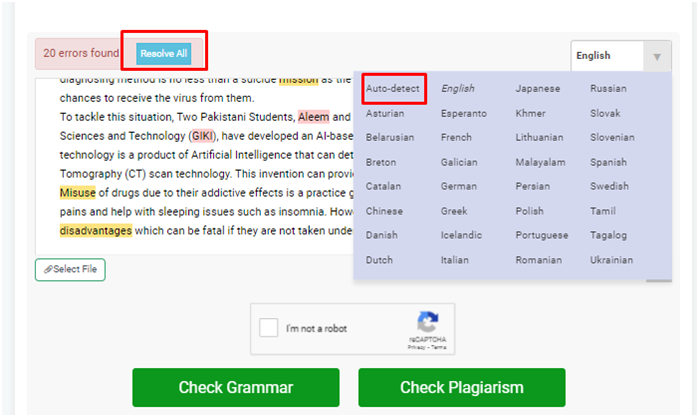 The grammar checking service is easy to use. We can paste text directly or upload a file to perform a grammar check.
The best part is the auto language detector which analyzes our text and automatically highlights corrections required. We can also manually select from 20 different languages.
The tool is very efficient in highlighting spelling and punctuation mistakes. As soon as we paste the text, it provides suggestions by highlighting the errors with different colours.
With one click, we can clear the input box. So, we don't have to reload the page to perform a new grammatical check.
Another reliable and convenient feature is one-click mistake correction. So now we don't have to manually go through the content to check and correct mistakes one by one.
Whether we're paid or free users, there is no limitation on words or usage. We can perform grammar checks as often as possible with the most accurate outcomes.
Besides pasting text directly in the input box, we can upload the complete file online. The AI-based algorithm will automatically detect text and scan for grammatical mistakes. This tool is compatible with almost every text file format in existence.
We can use this tool to correct our essay, thesis, or assignment errors.
Features compared to Ginger Grammar Checker
Ginger Grammar Checker is an online and downloadable application that helps correct grammatical mistakes of different criteria.
Ginger Grammar is an efficient tool that checks English mistakes beyond just grammatical rules. But some limitations make it less preferable as compared to the PREPOSTSEO grammar checker: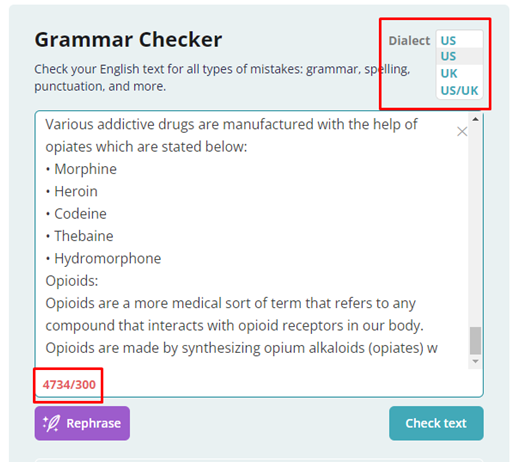 A free user can only check 300 words, which is not convenient to check for full articles or assignment papers.
Unlike PREPOSTSEO, we only get to check grammatical mistakes in the English language but with dialect choice.
This checker directly corrects all the changes instead of just highlighting them. This option seems convenient, but it's not user-friendly if we manually correct mistakes.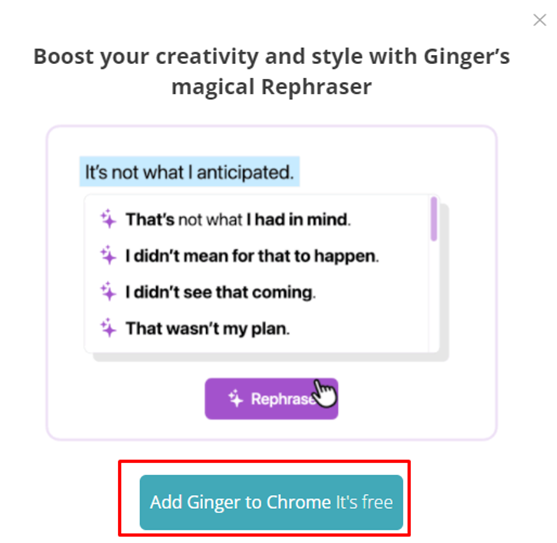 The tool does have an option to rephrase our text, but it only works if we have installed the chrome extension.
There is no option to upload a text file to check grammatical mistakes. Nor can we share the text via a cloud storage source.
3. Paraphrasing Tool
Paraphrasing is a way to avoid plagiarism penalties by creating unique and interactive content. It may seem simple to change the meaning of the words in a sentence to make it unique. But the challenging part is when we have to retain the meaning of that sentence or paragraph.
This job is seamlessly done by the Prepostseo paraphraser. This utility offers a wide variety of features under free usage, making it efficient and easy to use.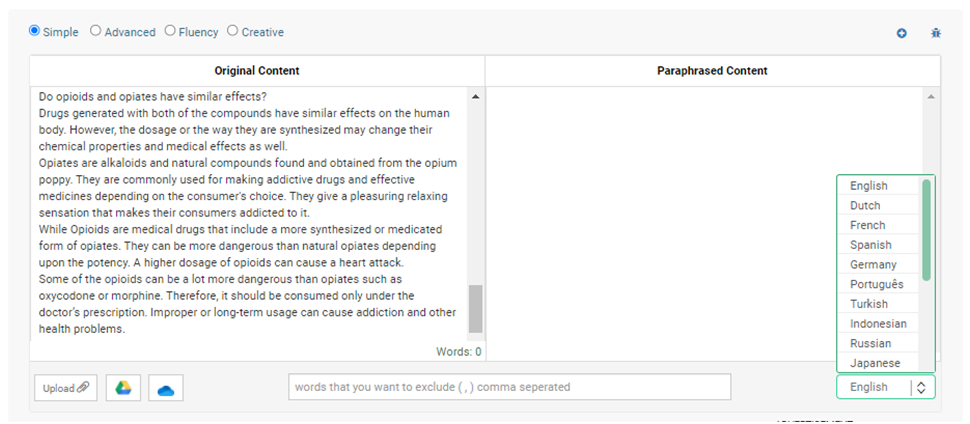 Prepostseo paraphrasing tool has a user-friendly interface that allows text pasting and file uploading options.
Paraphrasing is based on character count to perform a check on 5000 characters at a time.
There is an option to exclude specific words or commas from the text, which we don't want to change. We can mention the words we don't want to change in the filter box below.
Prepostseo gives a wide variety of options to perform paraphrasing. There are more than one styles to choose from to convert our text. We can either keep things fluent, advanced, creative, or simple.
Based on our paraphrasing style, the implemented changes are highlighted in the output box of paraphrased content.
The interface supports various languages, expanding its services for every global platform.
Once our text is paraphrased, we can do whatever we want with it. The application gives us the option to download or copy the output.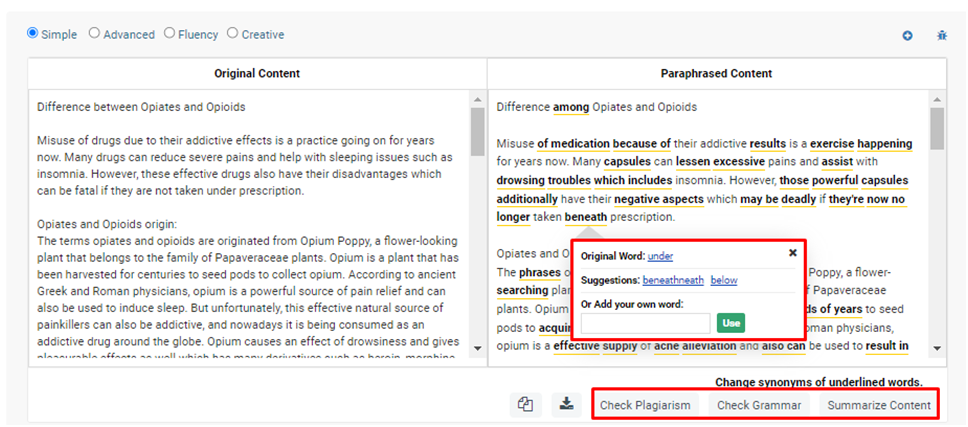 The interface also features a one-click option to check plagiarism, grammar, or summarize the text. All these options support making our content SEO-friendly to post it on the website directly.
If we're not satisfied with the results, we can choose to paraphrase the output text without copy-pasting again or refreshing the page.
All these features are available free of cost with a web-based tool, chrome extension, and the mobile application of Prepostseo.
Features compared to SEO Magnifier Paraphrasing tool
SEO magnifier is an online toolkit for website ranking and optimization solutions. It's a convenient option if we want to get rid of plagiarism. This application offers online support for many writers and publishers to provide rewriting services.
This checker follows a step-by-step process to perform paraphrasing techniques on our content. Even with the free access, this tool has some limitations, which makes it a less preferred option by expert writers: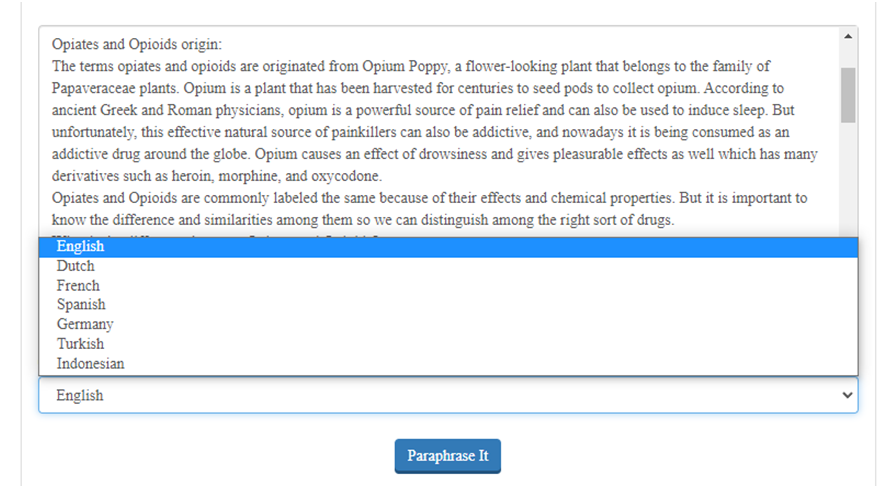 There is no chance to upload or share files from any source.
This tool supports seven languages which are less than the PREPOSTSEO paraphraser.
This utility follows a specific style of paraphrasing. However, we can change the exact words based on suggestions.
This tool only supports two formats of downloading the paraphrased content.
There is no option to check grammatical mistakes or summarize the text.
There is no option to paraphrase the output results without refreshing the screen again. We have to perform the process from the beginning manually.
It has no option to filter specific words, prepositions, or sentences. This option is necessary to save nouns and verbs from changing as they may represent an official organization or individual.
4. DA & PA Checker
The domain and Page Authority of a website are two critical factors to evaluate how good a website may rank in search engines. Domain authority scores a website's relevancy to its representing domain or topic.
The relevance of content or information available on the website states the ranking of that URL among search engine results. These ranking scores are developed and defined by Moz. Online DA & PA checking tools like Prepostseo offer various services to generate accurate results in bulk: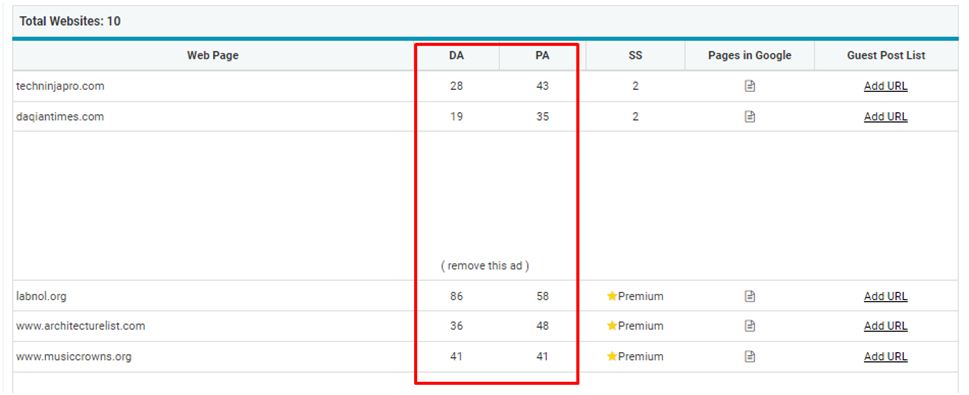 The interface is much like using a text editor. We can directly paste URLs and links in the input box on which we want to perform a DA PA check.
As a free guest user, we can check up on DA/PA of up to 10 URLs at a time. If we want to increase that number without paying anything, a free account registration will get us 25 URL checks per usage.
The interface makes things very convenient for users. We can apply a filter to exclude the exact URL or Domain. It also shows the websites count we have pasted to use in the input box.
The website provides us with the spam score, DA, and PA of mentioned websites and shows the IP addresses of the websites.
The individual Page authority of each website defines how good or bad a website will be in SERPs rankings.
We can also Individually check each website's indexed pages on Google.
When the generated results are displayed in the table, we can choose to download a report based on an Excel sheet or HTML format.
All these features are supported with the chrome extension to enhance our real-time search engine optimization experience.
Features compared to Search Engine Reports
Search Engine Reports DA PA checker gives the Moz ranking score by clicking a button. This DA and PA checking tool is free to use and pretty responsive. But it lacks some features with the interface and accessibility options which are mentioned below: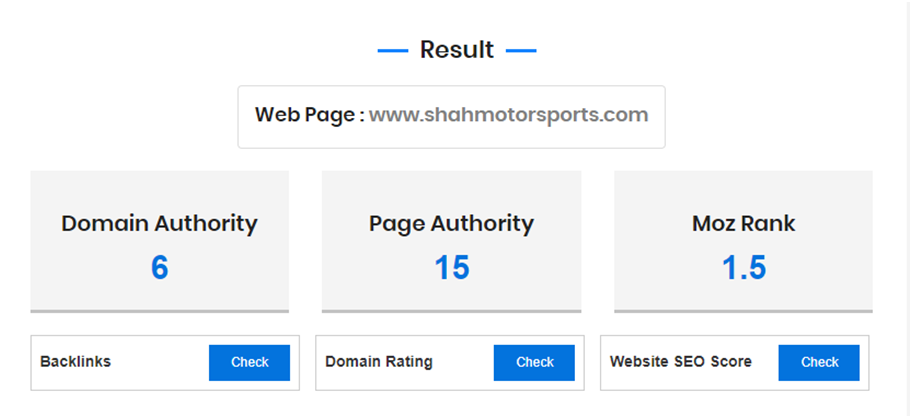 The first concerning issue is the interface of this tool. When we try to check the authority, we encounter many ads that make it challenging to operate this tool.
The button configuration and input box are not user-friendly to use.
One major drawback is that this website does not work as a bulk DA PA checker. The input box allows us to paste only a single link to check its domain and page authority ranking.
This tool provides only the essential information, and no additional information like spam score is available.
On the better side, it does offer to check the SEO score and backlinks of the website after performing the authority check.
Results are not displayed in a chart or report, stating that we cannot download any information.
5. Backlink Maker
Backlink makers bring valuable assistance to web admins, bloggers, and digital marketers. These backlinks help a keyword to rank better among the search engine results.
Backlinks are helpful to generate traffic on a webpage which is why web admins are increasingly following backlink strategies.
This technique is the most compelling aspect of off-page SEO. Backlink Maker by PREPOSTSEO is exclusively designed for newly developed websites. The following features of Prepostseo make it a standout option for quality backlink generation: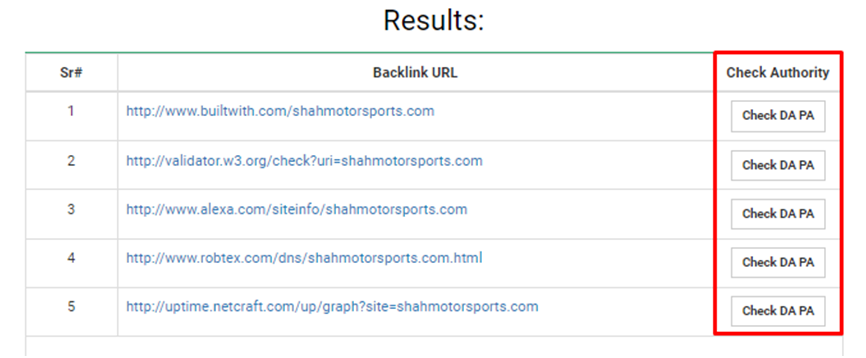 The interface is straightforward to operate. We can paste the link to our website into the input box, and within seconds, we'll get a summary of the links.
This tool ensures a generation of high-ranking and qualified website links to provide better search engine results.
Links generated by this tool are guaranteed to be relevant to our website under high-ranking authority. Backlink Maker won't provide us with spammy or low-quality links for our website.
The interface features a button to check the DA PA authority of each generated website link integrated with its built-in checker.
The tool gives a mixture of do-flow and no-flow links, which don't tend to harm the ranking of our website.
Features compared to SEO Wagon
Web-based SEO tools are expected to provide one solution for optimization needs. SEO wagon features a complete set of services with on-page and off-page SEO services.
The backlink generator by SEO Wagon looks pretty professional from the interface. Yet it lacks in performance in various aspects: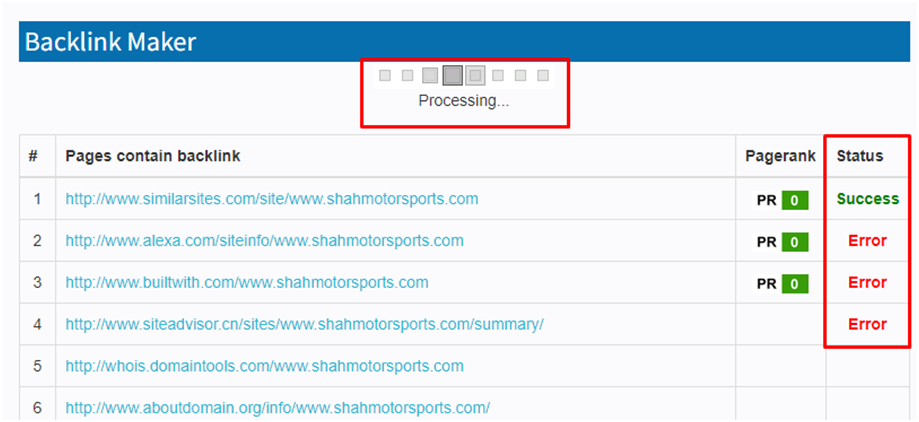 This backlink generator provides do-flow and no-flow backlinks, but the ranking and success rate are not guaranteed.
Some of the websites appear to be irrelevant to the content featured on our website.
Above all that, it takes a lot of time to generate links. Even then, most of the links will give errors in results.
Things to make sure of before choosing an SEO Tool
● Web service with extension
The search engine optimization toolkit is convenient to be available online with additional plugins and extensions. Such features make it convenient to use in real-time by writers and web admins.
● Content writing and editing
Content impacts our website the most, and that's where the optimization application comes in handy. We have to deal with constant updating, real-time editing, plagiarism checking, and keyword adjustment.
All these capabilities consume a lot of time and effort. Having an SEO application as our help in need can resolve these issues. SEO tools contain options like rewriting and paraphrasing, which helps develop unique content that ranks higher in search engine results.
● Easy to use
Usability is an essential factor that varies based on the person operating the service. It depends on whether the SEO tools operator is a writer, blogger, or webmaster. These tools should be convenient to use by anyone related to the web posting and website optimization.
● Accuracy and responsiveness
Search engine optimization tools draw and provide data based on information already available online. It is expected from these tools to extract accurate results which play a role in improvising the ranking of our website.
On the other hand, SEO tools should be responsive to user queries and entries. A device that consumes time to load or crash won't do any good to increase the performance of our website.
● Freeware services
This compatibility is an optional expectation from an online SEO tool. SEO experts are looking to save time, but it brings a big plus to save some bucks. It is ideal to offer freeware or trial-based services to gain better.
It is always recommended to evaluate the services of an SEO tool on a complimentary basis. If the trial version was satisfactory, one could subscribe to a paid monthly or yearly-based plan.
Conclusion
The availability of search engine optimization tools should be efficient and reliable. These services can only be assisted if such platforms are available online. On top of that, it's a huge plus if we get all the necessary features on a single platform.
All-in-one online solutions like PREPOSTSEO have convenience for web content writers and developers. Its complete toolkit goes beyond other SEO toolkits by offering mobile applications, WordPress plugins, and browser extension services.