Fantastical is our favourite calendar app, and it seamlessly integrates Reminders. Fantastical App provides a beautiful and sleek interface that uses natural language input to make scheduling a breeze. You can quickly switch from a month view to a weekly ticker view and see your entire agenda at once. It integrates with your native iOS Calendar, so no additional configuration is required. It's the best iPhone calendar app, in our opinion.
Fantastical is a multi-award-winning calendar app that includes powerful features such as intuitive, natural language text parsing, beautiful full calendar day, week, month, quarter, year views, tasks, time zone support, and much more.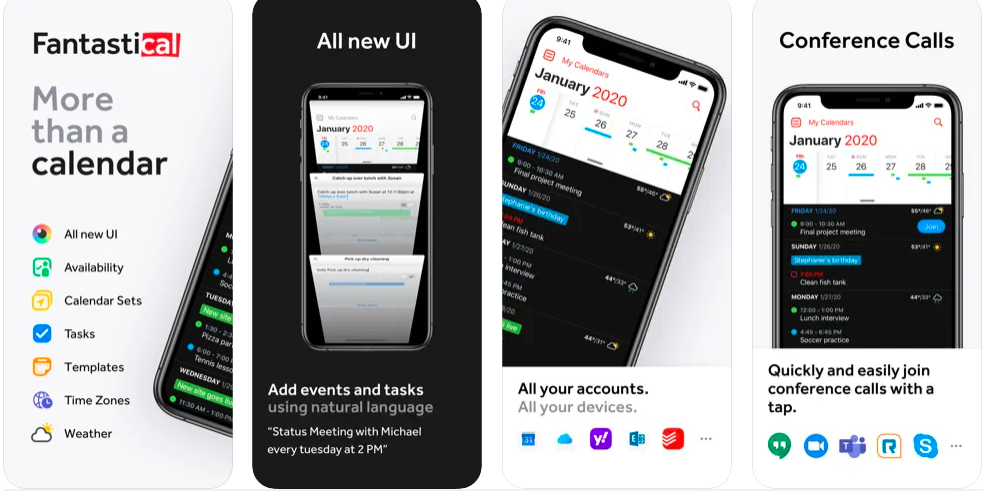 Key Features of Fantastical App
Beautiful, clean, and simple calendar app for managing important events.
The DayTicker and calendar make your schedule look better than before.
Full-screen views of the day, week, month, quarter, and year
Complete task management, including Todoist and Google Tasks
Three-day weather forecast powered by AccuWeather
Flexibits Premium 14-day free trial
Tasks Made Easy For You
The quickest and most convenient way to add new events or tasks
Enter your information or use dictation and watch your words transform into an actual event or task!
Powerful parser features, such as:
Begin your sentence with "task," "reminder," "todo," or "remind me to" to create tasks.
Recurring powerful and expressive events such as the third Thursday of every month, every weekend, the last weekday of the month, and others.
Use phrases like "remind me tomorrow at 3 PM," "alert 1 hour before," or "alarm 3 PM" to create alerts.
There are numerous iOS and iPadOS widgets. Background app updating allows events, tasks, and alerts to be sent to Fantastical even if you don't use it frequently. Birthdays – view your contacts' contact information or send a quick birthday greeting. Fantastical for Mac, iPhone, and iPad handoff support. You have time zone support, including support for floating time zones. There are themes of darkness and light, Posters and Accessibility assistance.
Final Thoughts
Fantastical is a powerful and simple-to-use tool for managing your time. The software is compatible with the iPad, iPhone, Mac, and Apple Watch. Furthermore, it synchronises with all of your devices. Altogether it is intended to simplify your life.