SmartMonitor's InspyreTM app is a trademarked, intelligent motion-detecting and alerting app. The Inspyre works in tandem with Apple or Samsung watch to detect abnormal motion patterns resembling convulsive seizures.
When the app detects seizure-like motions, it immediately alerts caregivers via text message and call alerts, ensuring that the user receives assistance as soon as possible. Furthermore, the app collects detailed data from events (date, time, duration, intensity, audio, and graphical parameters), which can be shared with doctors/neurologists to help them provide better care.
Inspyre also has a 'call for the help button, GPS location in text message alerts, medication reminders, heart rate recording, and symptom reporting capabilities. The motion alert app allows the user to adjust the sensitivity and duration of movement they want the Inspyre to detect and alert on, reducing false alarms during the day and picking up on slighter abnormal motions during periods of sleep. It gives caregivers peace of mind while also restoring the user's independence.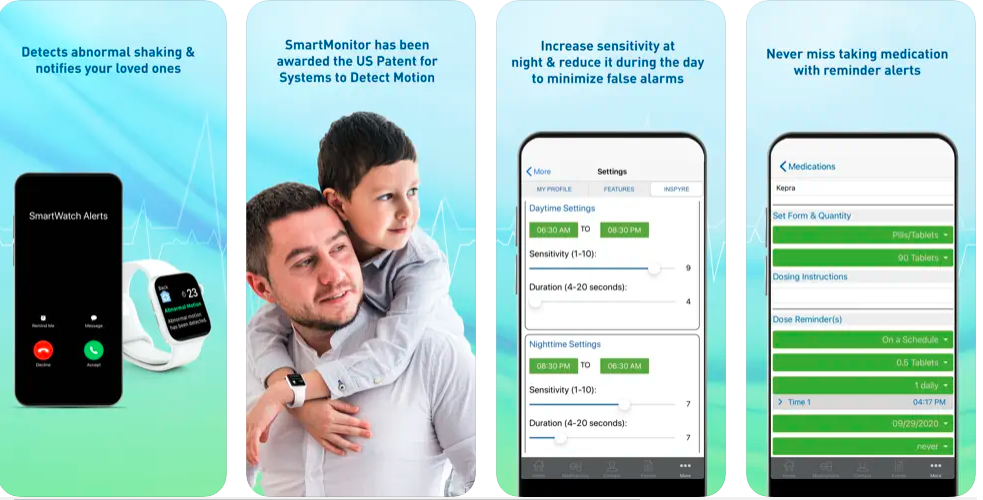 Essential Features of Inspyre by SmartMonitor
Abnormal Motion Detection
Notifies Caregivers and Loved Ones Immediately
Calls for Assistance with the Push of a Button
Gain Secure Access to Event Data
Location Sharing with GPS
Medication Reminders and Alerts
Collecting Heart Rate Data
Reporting of Symptoms
Smart Monitor's technology platform and connected coordinated care solutions are changing the landscape for complex chronic condition management by providing real-time access to data and insights that were previously unavailable. This has been shown to decrease the use of high-cost healthcare services and may result in more extended periods of remission and control, lowering overall costs.
Final Thoughts
Over the years, the SmartWatch has helped many people improve their safety. A person can get help sooner if seizures with repeated movements are detected. The new SmartWatch Inspyre advancements using Apple Watch will make this technology more accessible to many more people with epilepsy.