Mental Math teaches you how to solve complex problems and improve your arithmetic skills. Abacus is a fantastic tool for calculation. Mental Math will assist your children in learning Abacus, Numbers, Addition, and Subtraction. It generates mathematical problems for kids to solve using mental calculation techniques, Vedic math tricks, or using an Abacus.
Their main vision is to create innovative and resourceful learning solutions to support the prototype shift in a student's skill level. Mental Math is built for children who will give an Edge in their learning.
The main features of the mobile application are its ability to provide intelligent features to students and a holistic approach that makes learning mathematics enjoyable.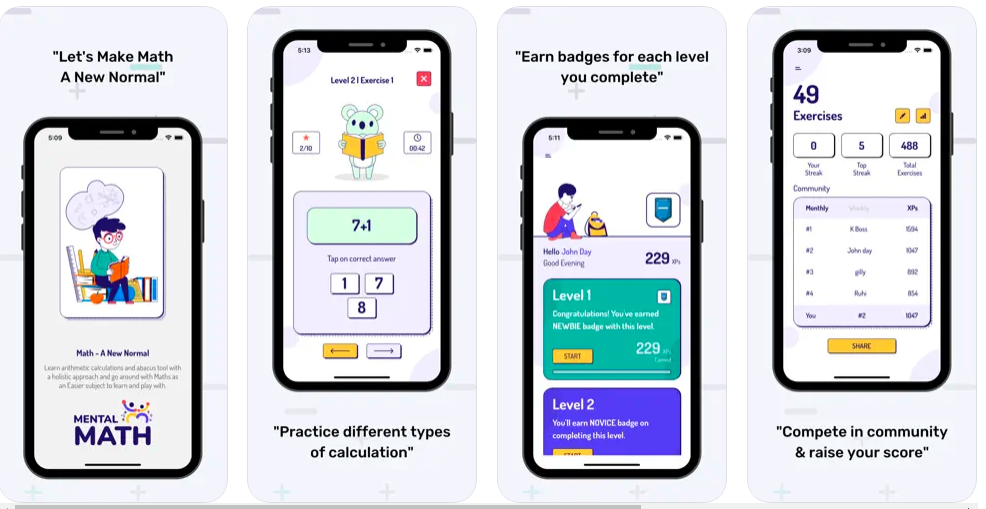 Practice realistic assessment to ensure higher test scores.
Reach out to everyone and teach everyone the methodology.
Students are wholly focused on everything we do.
Useful and actionable reports to track student progress and growth.
Learning Content that Meets Standards
Offer insightful and actionable reports for monitoring student progress and measuring growth.
They serve as a Mental Accelerator for grasping logical methods
Mental Math is a modern digital app for the youth that will keep them engaged while also helping them develop their skills. Their main goal in providing Abacus instruction is to help students succeed. When a child achieves success, they gain confidence, self-esteem, and the desire to pursue that success in the future.
Furthermore, they hope your child will develop a solid foundation of mental mathematics skills with their dedicated instruction. The key features of the mobile platform are its ability to provide intelligent features to students and to offer a holistic approach to mathematics learning.
Abacus Advantages
Abacus-based Mental Arithmetic System to help children improve their logic.
Enhances long-term brain skills like concentration, mathematics, creativity, and visualization
Discover and reveal children's hidden potential.
Solve mental calculations without using an abacus.
It takes away the fear of mathematics and makes learning math enjoyable.
Clear Logical Reasoning is taught.
Strengthens mental visualization abilities.
Improves problem-solving skills.
Increases the ability to multitask.
Academic Achievement in General
Self-discipline Improvement and Fine Motor Skills Development
Enhanced logical and creative abilities.
Final Summary
Mental Math is perfectly used to develop innovative and resourceful learning solutions to support a student's prototype shift in skill level.