GamerPower is dedicated to assisting you in locating, tracking, and collecting the best gaming giveaways. With GamerPower by your side, you won't miss out on a single freebie, from free games to beta keys to free in-game loot and currency for your favourite games.
GamerPower connects gamers to legitimate giveaways from official publishers, developers, and platforms such as Steam, Epic Games Store, GOG, itch.io, Playstation, Xbox, and more! GamerPower provides direct access to giveaways from all of the world's leading game publishers and developers, whether on PC, mobile, or a specific console. You no longer need to look for free game keys or gift codes; download and install GamerPower, and you're done.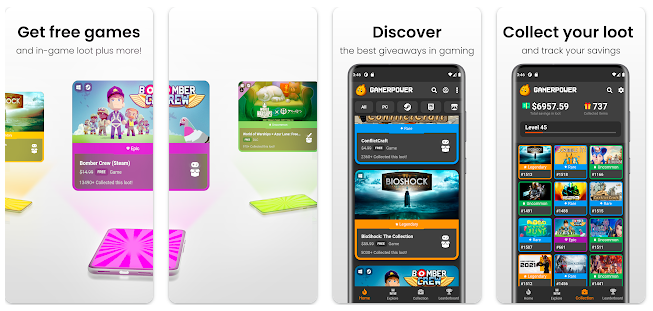 Important Features of the GamerPower App
You can get instant access to the best gaming giveaways directly from the official developers and publishers.
Also get free games and game keys for all platforms, including PC, Playstation, Xbox, and occasionally free Steam keys.
Keep track of your own loot! You have to collect them all!
Get free in-game loot, promo codes, in-game currency, DLC, premium upgrades, and other benefits for your favourite games.
Discover new opportunities, such as early access to upcoming games, exclusive goodies, and special offers.
Spread the word about giveaways to your friends.
Use filters to quickly and easily find out what currently available giveaways.
Stay current with no effort! In addition, the "Explore" menu contains recommendations and suggestions.
More Features to Enjoy
Keep track of your savings.
Increase your level and don't forget to check out the weekly leaderboard
Forever free
Personal. No registration is required!
Use the web or mobile app to access GamerPower.
A completely free public API is available.
While GamerPower already provides giveaway tracking, historical records of each player's giveaways, and running totals of how much gamers save by using the app, the company adeptly plans to expand on several features to assist players in getting without spending more.
Final Thoughts
We strongly recommend GamerPower if you want distinctive and unique features; you will enjoy what this giveaway app offers.