Meditation is a form of mindfulness that helps you to focus on your breathing and to train your mind to be more aware. It is believed that meditation can help people with anxiety, depression, and mood swings.
Some of the benefits of meditation are:
– Helps you to manage stress levels
– Improves mental clarity and creativity
– Promotes emotional stability
– Reduces symptoms of chronic pain
– Increases immune system functioning
Finding a good tutor for yoga and meditation is a tedious task. Because we don't have guided classes for our disorder. Thus this ThinkRight.me – India's leading Mindfulness App was quite helpful for me to continue my meditation easily by sitting at home.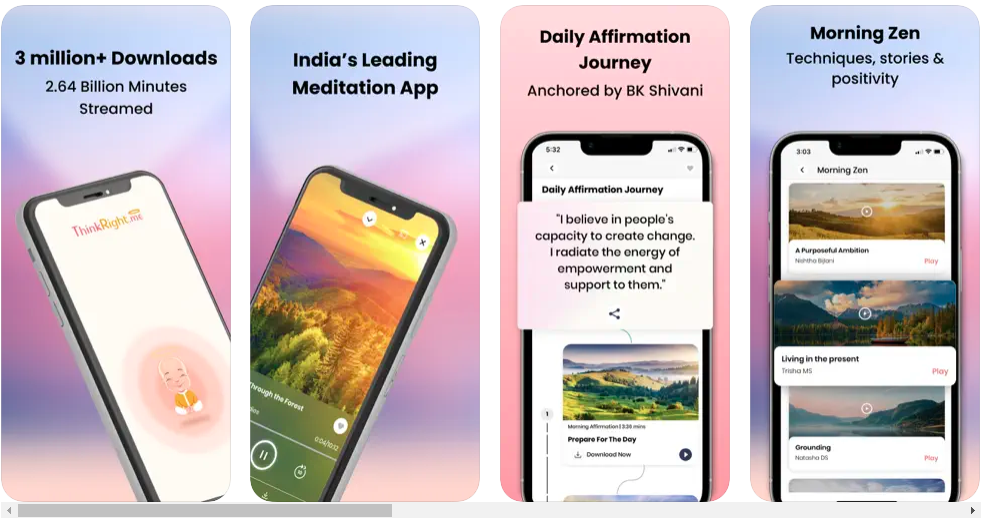 What is ThinkRight.me – India's leading Mindfulness App?
Our powerful meditation & mindfulness techniques are created to help you change the way you think, and change the way you live. Start your journey of transformation with our daily affirmation journey, a rich library of goal-based guided meditations and courses, yoga, mini-breaks, a guided emotional journal, and our special section for kids filled with mindfulness, fitness, and fun.
KEY FEATURES:
Free Daily Affirmation Journey by BK Shivani
Guided Meditations: a library of best-guided meditations for a positive mental attitude, personal growth, self-healing, inner peace, calm, better sleep, and more
Quick Meditations: to help you calm the mind and relax in the middle of a busy day
TRM For Kids: a special section with meditations, sleep stories, yoga, and activities created for children.
Mini Breaks: curated tips and techniques to reassess and relax
Morning Zen: bite-sized sessions by noted specialists to help you to think positively and be positive throughout the day
Mindfulness Journal: guided emotional journal to help you keep track of your thoughts and emotions
Yoga For Mind: exclusive yoga flows by renowned mentors to guide you on your path of better mental health and emotional wellness
Music to help you relax, focus & reduce stress
Meditation and mindfulness courses
Meditation timer & chant counter

DAILY AFFIRMATION JOURNEY:
Anchored by renowned mentor and meditation master BK Shivani, our exclusive Daily Affirmation Journey will help you to:
Kickstart your day with a powerful 5-minute affirmation
Schedule gentle reminders throughout the day to help you be aligned with the day's affirmation
Reflect on the day with a guided evening reflection
QUICK MEDITATIONS:
Help you release stress
Develop a positive mental attitude
Remove confusion and much more
Overcome day-to-day situations and much more
TRM FOR KIDS:
Easy meditations: Guiding kids to walk through the process of life
Fitness & fun: Activities to develop flexibility, strength, coordination, and body awareness
Sleep stories: To help kids relax and improve their imagination.

MINI BREAKS:
Reassess and improve your mental and physical health with TRM Mini Breaks:
Mindful tips that you can plug in to unclench the mental and emotional stress
Quick techniques to help you relax and loosen up the muscle tension and much more

MEDITATION & MINDFULNESS COURSES:
These curated courses help you grow as an individual. Popular topics include:
Basics of meditation
Financial Freedom
Visualization & Manifestation
Chakra Healing and more

GUIDED MEDITATIONS:
Exclusive guided meditations by globally acclaimed masters to:
Improve focus & concentration
Create happiness & beautiful relationships
Relieve stress
Overcome overthinking
Sleep well
Self-healing and much more
EMOTIONAL JOURNAL:
Easy-to-use guided mindfulness journal that helps you let go of negative thought patterns and strengthen the positive ones
Keep track of your daily lifestyle
Record your feelings and become aware of your internal thought patterns

YOGA FOR MIND:
Yoga techniques and asanas that help you stay calm and help in the relaxation of your body and mind
Solution-focused flows for a modern lifestyle
Easy-to-follow yoga routines

MORNING ZEN:
Bite-sized sessions to start your mornings on a happy & positive note
New content is released daily

OTHER FEATURES INCLUDE:
Personalized meditation goals & notification preference
Ambient music, 3D sounds, Healing frequencies, and much more
Timer and chant counter to organize your meditation practices where we also integrate with the health app to read and track your meditation minutes to guide you better
Daily inspirational quotes and articles
I have been learning how to meditate for a few months now and think I'm making some good progress. I hadn't done much research on meditation and it was hard to find an app that didn't feel overwhelming. When I found ThinkRight.me: Meditate Daily, it offered a similar simplicity and ease of use as the other apps I had tried but also featured guided meditations. It's been such a great app as it offers a great variety of meditations and is also very easy to use.