IBO. The Home Improvement Store You Can Trust.
IBO-Home Building Megastore is the best home improvement store in town. I can't find a single thing wrong with it. The prices are great, they have a wide variety of products and their customer service is just as good. I would recommend this store to anyone who needs to do some home improvements!
Get to know about IBO-Home Building Megastore
This is one of the largest home and building supplies stores in the world. They provide high-quality products at affordable prices. Their products are available for both residential and commercial use.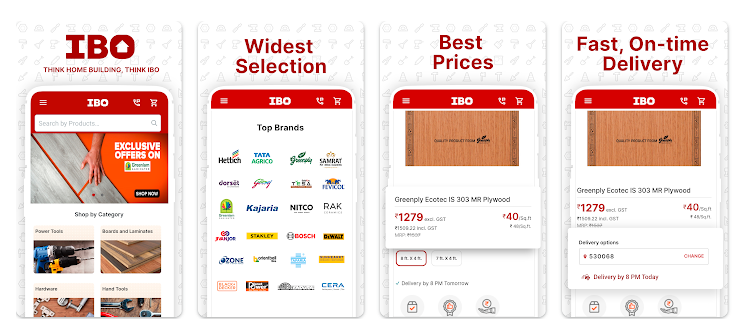 IBO carries a wide selection of categories and brands to meet all home building & improvement needs. With IBO you can get your home improvement requirements delivered to your doorstep within 72 hours of order placing. IBO serves both B2B and B2C where end-users, as well as businesses, can order goods. In addition, it has a special segment for professionals such as plumbers, electricians, and carpenters who can order products from IBO at a special price. You can find the best quality Flooring, Paints and Adhesives, Boards and Laminates, and many more. All products carry comprehensive product information, competitive prices, and fast delivery promise. IBO has a dedicated team of customer support with expert sales representatives who help the users throughout their order journey.

Categories and Brands available at IBO

1. Flooring- Sunhearrt | RAK Ceramics| Cera| DM
2. Paints & Adhesives- Fevicol| Jivanjor| Asian Paints | Dulux | Nerolac
3. Boards and Laminates- Uro Décor | Action Tesa| Greenply| Archidply
4. Kitchen- OZONE| Hettich|Godrej
5. Bath- Cera, Kaff
6. Electricals- Anchor| Eveready |Finolex| Greatwhite |Polycab| V_Guard
7. Hardware- IPSA | Godrej| OZONE| Suzu
8. Plumbing- Prince | APL Apollo | CRI
9. Lights and Fans- Anchor by Panasonic| Orient| Panasonic
10. Power and Hand tools- Stanley| Bosch| Taparia| Venus And many more…

Touch and feel the products at our store

Want to see what you buy, visit our store at your convenience, and experience the wide range of categories. Order from the store with the same benefits and get items delivered to your shop, doorstep, or construction site.
Take Away
IBO-Home Building Megastore is the best place to get all your home goods. I have been shopping here for years and they have always had the best quality products at the most competitive prices. The employees are knowledgeable and helpful, so it's a great place to go if you don't know what you're looking for. They have a great selection of flooring, paints, adhesives, boards and laminates…everything you need to get your house in order! I bought my flooring, paints, and adhesives from there and couldn't be happier!