Install HUGO and save 12% on energy bills based on 2022 quality customer survey studies. HUGO wholly connects to your smart meter and collects your energy usage, which it then presents to you in an easy-to-understand and interactive format.
Using this intelligent energy app, you can track your electricity or gas consumption yearly, monthly, weekly, or even daily. This not only helps you reduce your carbon footprint but also allows you to SAVE on your utility bills by providing valuable data on electricity and gas usage.
Some of Hugo's Amazing Features
Set budgets and limit the maximum you can spend on utility bills – this energy-saving app will send alerts if your electricity/gas usage exceeds the budget.
Set monthly/yearly CO2 targets for your carbon footprint by purchasing offsets.
Create energy-saving tips and share them with HUGO users.
With HUGO easy switch, you can find green tariffs and switch in 20 seconds.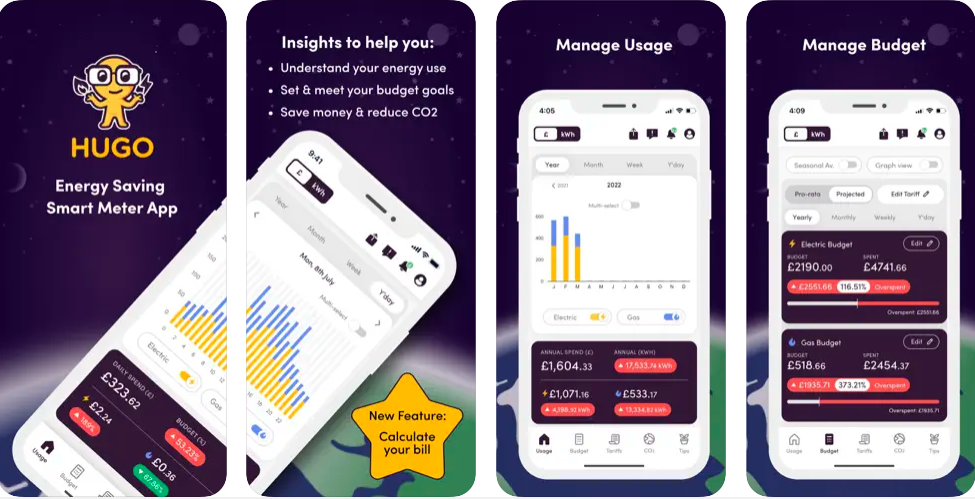 HUGO has collaborated with authorized astute data collectors to receive and collect the data displayed on the intelligent meter app. Your data is only collected after you permit to receive and access the data. You can also utilize the app to share your household meter information with everyone in the house.
HUGO is compatible with all energy, electricity, and gas providers in the UK, including but not limited to British Gas, EDF, E.ON, Bulb, Octopus, Scottish Power, OVO, Utilita, and others.
HUGO authenticates your connection to the shared address using the credit/debit card registered at your address. Your card information is always kept private and encrypted. HUGO cannot and will not charge you using your credit card information.
In simple terms, HUGO is an energy-saving app that syncs your electricity and gas meter data to your phone, making it simple to limit energy consumption, reduce energy costs, and reduce your carbon footprint.
Significant Advantages
There are no compatibility issues (if your smart meter is working)
Supplier independent
There is no need to duly rely on the supplier for tariff information.
Creating accurate budget/cost projections
Not reliant on Bluetooth meter communication (HUGO is cloud-based), energy data is not lost.
It is available from anywhere on the planet.
Supports single-rate and day/night tariffs.
Final Take
The Hugo app has the potential to solve many of the issues that people face when using smart meters. Additional features such as CO2 offset and supplier switching make it a central hub of home energy management for households.