SSH Client is a simple yet powerful app for working with SSH servers on your Mac, iPhone, and iPad devices without any server-side dependencies. Link your remote servers with ease. The globe's most intelligent and innovative SSH Client app for iOS and Mac devices to control and link to remote servers.
SSH Client
SSH Client is a mobile SSH-Telnet app with the best putty, console, shell, and shell iOS app with powerful remote access and a terminal emulator. The app is an enterprise-grade mobile app designed to meet various server management needs. The extensive features include but are not limited to a terminal keyboard and apt language support, multi-session capability, and Bluetooth keyboard support, among many others.
Most well-known and adored for its Administrator-Friendly approach, have taken into account valued customers' suggestions and are constantly releasing updates for SSH Client to become more reliable and robust in real-world usage and development.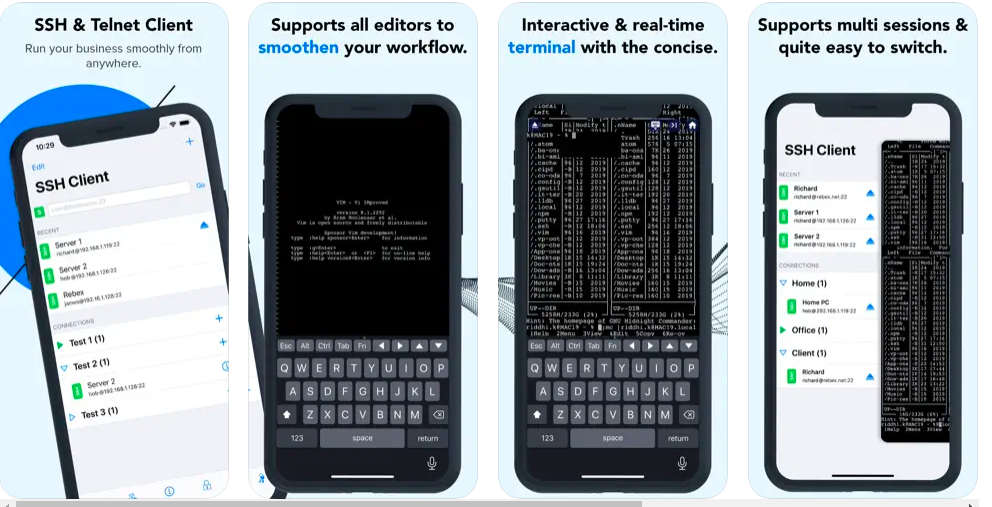 Key Aspects
Private Key files in multiple formats (RSA, DSA, and Putty) can now be directly imported using iTunes sharing from other apps and Clipboard.
Generate and authenticate RSA / DSA keys and share them via email or clipboard
Receive a 'Local Notification Alert or blink' before the connection is disconnected.
Instant access to the last top three connected servers.
SSH Client Capabilities:
At connection startup, launch (run) a previously saved command or script.
Use SSH to connect to your servers using username, password, or private key authentication.
'Standard and Non-Standard' port configuration
Adaptive Terminal
Able to change the colour of the terminal's background, foreground, and cursor.
Standard Terminal functions, such as 'Terminal Emulator with Editor'
You can customize Terminal Size
It allows for easy text selection and terminal screen copy/paste.
Server Folders:
Organized group-wise server for quick and easy management and control of interoperability.
Keyboard That Can Be Customised:
Complete support for external / Bluetooth keyboards
Function keys like Esc, Tab, Ctrl, /,:, -,!, |, $, *
Keyboard built-ins with fixed keys such as Ctrl, Up, Down, Left, Right, Alt, Tab, Esc, and F1-12
Simple to Connect:
Run multiple prompt sessions concurrently.
Indicator of active connection counts at the App Badge
Set up and manage an unlimited number of future sessions to reduce workload.
Gesture Control:
Pinch Scaling Terminal Display
Auto-scroll can be turned on and off with a single touch.
Connection and disconnection from the 'Home Screen' with a single tap
Main Advantages of a Free SSH Client (Best Putty, Console, and Shell App):
Operates on cellular or WiFi networks.
Make use of custom or Mac built-in fonts.
Continuous operation in 'Portrait or Landscape modes
Supported editors include Vi, vim, pico, nano, and others.
Passcode features built-in
Since it is 'Universal Binary,' there is no need to purchase two apps for iPhone and iPad.
Final Words
To control and connect to remote servers, use the world's most intelligent and unique SSH Client app for iOS and Mac devices.