With the perfect journal app, you can personalize a journal or diary entry by adding images, tagging locations, setting writing reminders, password-protecting folders, and much more. Among many apps found in the market, Seasons is a concise and inventive digital journaling and note-taking app introduced for users. Start organizing your thoughts and feelings in multiple journals, adeptly express your creativity with countless designs and stickers, and actively document your thoughts and feelings to assist you in recognizing and growing.
What's Special about Seasons Journaling & Notes App
The users can instantly begin creating journals and journal entries after a brief introduction. Your notes and reflections can be text, photos, or audio recordings. Journals in one of five categories can assist you in remaining concentrated and organized for Personal, Health, Work, Learning, or Relationships.
They also offer several prompts that can be wholly answered to help you practice mindfulness and jumpstart your reflections if you are having difficulty deciding what to write or post about.
With a wide range of unique designs, you can personalize the look and feel of your journals. Customize and style your journals with an infinite number of background images, patterns, frames, journal bands, stickers, and mood & reaction emojis. They are constantly discovering new ways for you to express yourself and personalize your journals.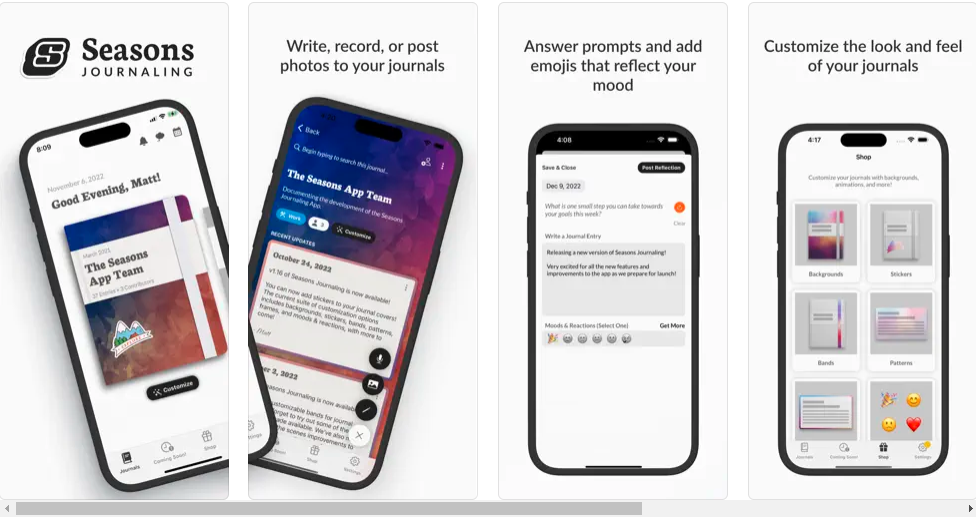 Free Features of Seasons Journaling & Notes
One free journal
Unlimited posts
Rich text editing
Photo posts
Audio recordings
Date editing
Journaling prompts
Group journaling
Keyword search
Daily Affirmations
Calendar scheduling
Helpful notifications
Face ID / Passcode protection
If you wish to share your journal with others, you can form group journals by inviting those close to you. This is perfect for those who keep us motivated and accountable, such as friends, family, therapists, coaches, and mentors. Their assistance, positive affirmation notifications, and calendar scheduling will assist you in making journaling an essential part of your self-care routine.
Final Words
If you're looking for the best journaling app or a brilliant app for logging and recording different events and milestones, Seasons Journaling & Notes is by far the perfect.