New, user-friendly interfaces, trendy platforms, and upgraded video editing tools are released every year. The split video editor is one of the world's most needed applications for the split video effect trend. Numerous video cutter apps for Android smartphones allow you to cut or trim videos easily. So, if you want to download video cutter apps for Android, you've come to the right place. The video Cutter & Splitter app developed by Boffin Coders is expediently launched for the benefit of users.
A split video effect involves dividing a video into sections, possibly your favorite part of the video. Moreover, a split-screen video stands out from the crowd. It expresses beauty and creativity and tells many stories in an enthralling way.
This guide will assist you whether you are trying out the split effect for the first time or looking to explore other split-screen editors. Also, let's face it, we all get videos on our smartphones from various instant messaging apps. You may see a video that you want to save but need help with storage limitations.
Video Cutter apps allow you to easily cut and save videos to your phone's internal storage. Even if storage is not an issue, you can occasionally cut a video to your liking. In such cases, video cutter apps for Android are required.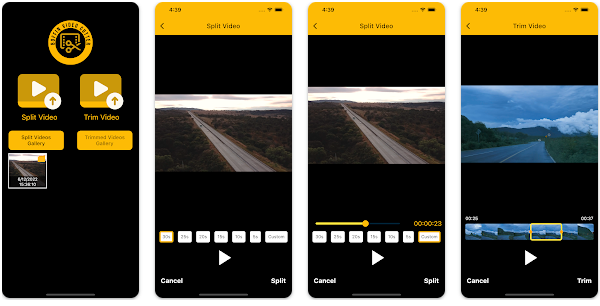 Main Characteristics of Video Cutter & Splitter
Split Video: For WhatsApp, status, and Instagram stories, split the video into time-based segments.
Trim Video: Pick a section of the video and trim it.
Gallery: View the most recent clips in the gallery.
A video cutter app divides video into segments for WhatsApp status updates and other user stories. This Video Cutter & Splitter app intends to cut videos with a duration of 30 seconds by default. You can also have a custom split of videos based on user-specified duration. You can post your video file, set a start and end time, or use a time seek to select the time. Your clipped video will be saved as a new file rather than overwriting the original.
Final Thoughts
The growing popularity of social media and video-sharing apps such as TikTok, Instagram, and Twitter has increased the demand for quick and simple video tools. You can use this popular Video Cutter & Splitter app developed by Boffin Coders for more than just cutting and trimming.