With the advent of smartphones  and unique touch controls, you  can play games whenever you have some time to spare. These devices are best suited to your pockets and help you pick and play as you wish. Puzzles fascinate users and they come with a simple idea. Everyone of us enjoy puzzles as they help us while away our time and guarantee us enjoyment. Developed by Mojjar games, Hex49 is a logic/number puzzle game. The app is designed in a very simple manner and is easy to use.
Hex49 is a logical game that makes use of hexagons(7*7). It is much relevant to the soduku game that we used to play. The game boosts our brain power and improves concentration. It has numbers ranging from 1 to 7. If you need to solve this game, you have to place numbers from 1 to 7 on the individual tiles of the hexagon. The objective is that the number 1 through 7 should not repeat itself on any row or column. You have to fill all the tiles of the puzzle with in a short span of time.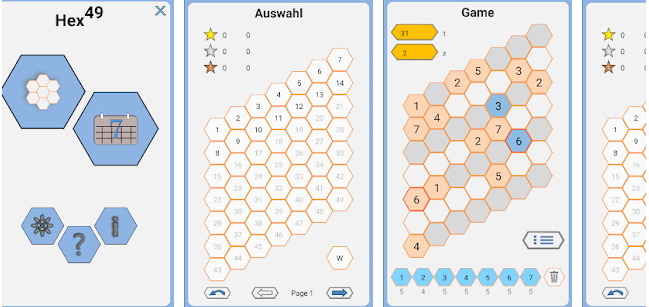 Hex49 has many difficulty levels that go from 1 to 49. Main Menu, Selection, Restart and Help are the four options of the game menu. The main menu of the game takes you to the Home Page. The selection allows you to select the level you want to play in. The levels 1 to 14 are available unlocked. The remaining levels can be unlocked later. You can upgrade to the pro version if you prefer. With restart you can start the game from the beginning irrespective of the moves you have made. The Help section describes the game which might be very useful for new beginners.
Once you start filling the tile the timer starts running in the top left hand corner. The 't' indicates the time and the 'z' mentions the number of moves done.
The settings of the game lets you to turn on and off the sounds and animation. As I played the game, what I felt was the need of a pause button. This may help me to start and resume the game according to my needs. It would be of a great addition if the developers incorporate it in the next update.
The game is suitable for people of all ages and this will help the kids to increase their thinking capabilities. The app is definitely a keeper to all the soduku lovers and it is guaranteed to give you hours of sheer fun. In no time, Hex49 will become your favorite game.
Worth Having App – Download the App