Would you like to download Pinterest images for free? Are you searching for a Google image downloader?
Well! You are at the right destination. Nerdy image downloader is an uncomplicated and user-friendly interface that will be downloaded as a small icon next to the URL field once downloaded from Google. Nerdy image downloader doesn't require big procedures or installations to download this extension. This program is exceptionally designed for downloading images from Pinterest with a single click and it is completely free of cost and can be used anytime from the installed browser hence you can achieve several errands by saving your precious time. You can use this extension to download pictures to share on social media or for any uploads if you are a blogger.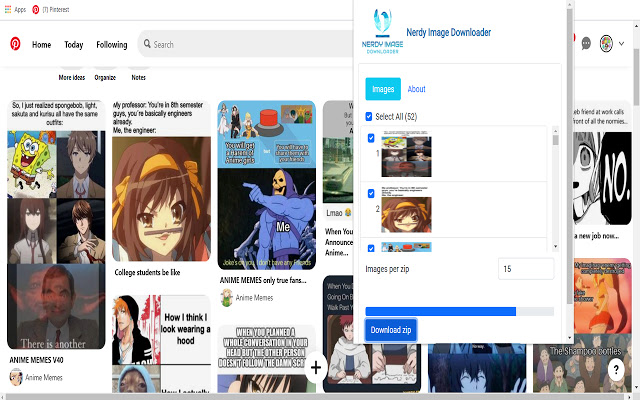 The below-mentioned features will be useful for you to know more about Nerdy Image Downloader
Nerdy Image Downloader is a tool for downloading images in bulk/batches
Download images from Pinterest boards.
This tool automatically scrolls for you to collect all images and downloads them into a zip folder.
Preview pictures that will be downloaded
Set the number of pictures per zip organizer download
Currently working on Pinterest Boards
Downloads images from the Pinterest board into the zip
Automatically scroll down to get all images
Installation and Functionalities
Download Nerdy downloader to the chrome extension just with a click from the Google search engine
Once downloaded it will automatically get added to your browser
You can check the extension on the right side of the address bar
Once opened a tray will display the downloaded pictures
You can save 100 images for a zip folder
The UI of this extension allows you to minimize and maximize it at any moment without covering your web page content
Anytime, you can easily remove this extension completely by clicking remove the extension and also re-install it again
Concluding statement
Trust me being smart in this competitive world is mandatory hence use this smart application to enjoy all the unique features and be more workaholic and productive. Nerdy image downloader is the best choice of downloaders amidst the numerous extensions available.