Do you want to make sure you're using the best Bible verse, Bible wallpapers, and inspiring Bible quotes? After all, there are now so many vying for your attention; it can be difficult choosing between them all. To help you out, we are illustrating one of the best among all namely Bible Verses – HD Wallpapers with Biblical Quotes app developed by DIVER APPs.
Bible verses offer the best quotes from the Bible on wallpapers with images of faith and nature for your mobile device. Moreover you can easily download the Bible verse wallpapers and share them with your friends and family. You can read God's inspiring messages on life, healing, faith, trust, love, and many more.
It is possible to save photos of daily Bible quotes to your device to read later or to send to the people you are interested in. There are wide variety of categories in this application with biblical verses and Christian quotes with images where you can simply select your favorite category to read or set as the background of the screen by downloading the biblical images.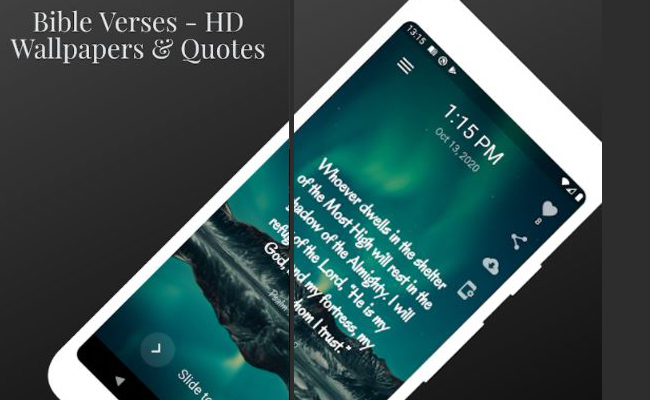 More importantly the Bible is the living word of God and provides us with food through the promises of God found in the scriptures. You can take a deep breath and read the Bible verse slowly, in this ever-changing world.
Bible Wallpaper
In this best option, you will get the wallpaper of the biblical verse to renew your faith every day. You can save them on your phone so that they appear on the home or lock screen of your mobile device mobile phone or tablet. So one can keep enjoying the free Bible wallpapers app.
Bible verses and quotes
In this option, app offers you with verses and quotes from the Bible. These will be updated with each of the new appointments of the day. Apply these quotes with background images on your mobile screens or share them with your family or friends so they can receive the word of God.
With this famous application, you can find powerful Christian verses, references, and biblical promises with images to stay connected to the word of God. It is ideal if you wish to learn and memorize bible verses.
Important Features of the free Bible Wallpaper application
You can mark your favorite verses
Notifications with new bible verses
You can easily share a Bible verse.
There are many HD Bible Verses wallpapers
You can change the fonts and images
Primarily the functionality of the Bible Verses app is simple and clear enough that anyone can use it. If you are anywhere you can start your spiritual journey with the push of a button at your leisure.
Finally
Overall, this Bible Verses – HD Wallpapers with Biblical Quotes app developed by DIVER APPs is worth trying and it is one of the best apps according to me. There is every chance possible you may also end up using it daily just like me.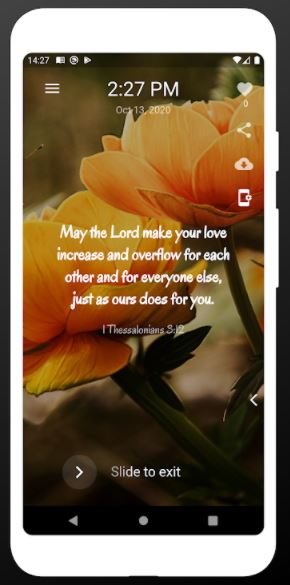 DOWNLOAD FROM PLAY STORE :