Whether you're bouncing aliens, princesses, raggedy men, or things like spike balls and teeth, you know that you're playing Bounce a Lot!  This exciting new game contains about sixteen stages of fun, without being too boring or for the gameplay to appear to be the same thing.  The game is not about bouncing one character at a time from one side to another, the games consists of having an increasing amount of victims and bounce them all into the ambulance without letting them break any bones when they fall on the floor.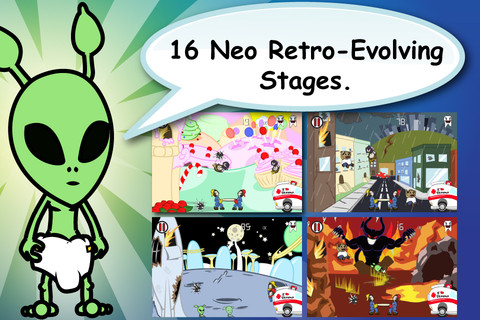 The first stage consists of saving the princesses in Cupcake land from their already burning castle.  With everything being so hot in there, you always know that people get desperate.  So while you may be bouncing one at a time, you have to think of a way to bounce two and three princesses as they drop without warning.  Another way to increase your chances of winning this game are the power ups.  These power ups consist of: Cup Savers, Still Alive, Slow Motion, Double Trouble and a Sucking Machine.  You get up to three tries when you start dropping people by mistake, so make sure to have all your lives for the most important levels.
One of the stages included in this game is, of course Cupcake land.  The other ones consist of saving your victims from raging earthquakes, the moon or the boss stage, where everything is red and hot.  Of course, on the moon you will see the aliens come out to play and we don't know why they're wearing diapers, but let's just pretend that they're somewhat human.  The difficulty depends on your level of expertise, but first time players of these types of games might already be having trouble bouncing two or three victims at a time.
The game is suitable for kids as well as adults because everybody needs that game that helps them out when they need a stress reliever or something to do when they're bored.  There are no annoying ads like in other games and the graphics look great with their 2-D aspect.  In fact, for being a new application, there seems to be no bugs or problem with this application at all.  The application itself costs ninety nine cents and people may question why it costs that much.  The answer is that every application needs updates and bug fixes, so you have to pay whoever is listening to your suggestions, no?
Purchases in game can be made if you want to use them as an advantage in the game.  You would need coins in order to make your characters better and the price varies when you want to purchase a certain amount of coins.  You can also check out their Youtube trailer, which contains gameplay, a story line as well as a closer look into the game before you make the purchase.  You can also reach them at their webpage, where you can post your suggestions that may be implemented in their new updates!
Overall, this application is not one of the best out there, but it's going into that direction so far.  Other applications that seem to be the coolest out there, just don't stay consistent when they shut down on you instantly without any warning.  If your kids ask for you to buy this app for them, just think that ninety nine cents mean that your kids will be fully entertained while you carry on with your daily tasks.  After all, this app shows them that saving lives is great, and it pays off!
Apps4Review Rating :  *  *  *  *
Download Link :   Download Bounce A Lot!