Aliens are always the topic of interest and you don't need to be a scientist to research on them. After all, any of those UFO based movies was not made by a NASA scientist but fans of fantasy. But whenever we talk about aliens, we always see them as enemies who arrive on our planet earth to loot our resources and to conquer the mankind. But why is that so? Just because the first movie was based on that concept doesn't mean that all should follow the same. Aliens can be friends as well as they might discover some other planet of interest. That's the script of this new iOS app that I really liked. There are four aliens who find planet called Orph and they all want to colonize it. But then a dispute arises about who will colonize the planet and they start fighting. So who will win the race to ownership?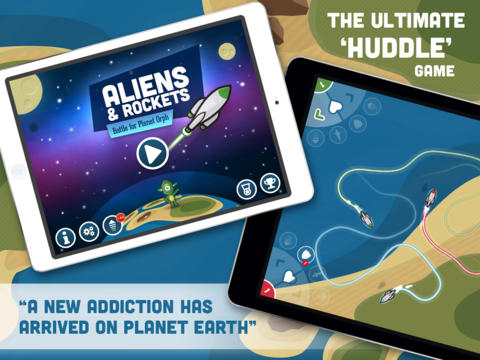 I am talking about the latest iOS app called Aliens & Rockets that has been developed by Innovatio. The app is compatible with iPad only and requires iOS 6.0 or any later version of the OS.
There are two gaming modes: single player and multiplayer. In the single player mode, you'll be fighting against Mister Evil, who is another alien with evil thoughts. He wants to conquer planet Orph and use it to fulfil his evil needs. In the multiplayer mode, there are four aliens: logi, okun, yugo and anakii. You can choose anyone of them and begin fighting. Up to four players can play together on one iPad with each player choosing an alien.
The gameplay is very unique and amazing. You have to sit inside your rocket and guide it in the galaxy while attacking other rockets and protecting yours. There are many power ups such as Missile to shoot others, Shield to protect yourself, Speed Up to give extra boost to your rocket, Speed Down to slow it down at edges and corners, Health to regain your life, etc.
This game is meant for iPad only and it shows off. When there are four players fighting each other, it really becomes difficult to handle your own rocket. But with controls on all four ends in restricted space, there's a lot of space left for the rockets to travel. Whether its single player or multiplayer, there's always a great deal of suspense and with four minds working together to save themselves, this game is surely one of the best. The graphics are amazing and the galaxy is as bright as an actual one.
The app is available for free in the App Store. If you're looking for a multiplayer game with lots of suspense and never ending interest, then this is the app for you. You can never get bored of it.
Pros: both single player and multiplayer; addictive gameplay; amazing graphics; in-game suspense and different game strategy every time; free.
Cons: none.
Worth Having Having App :  Download the App