In my childhood days, I used to travel a lot via trains. Trains are always reliable, economical and comfortable and visiting railway stations had become a routine for me. Every time I went there, there were so many trains coming and leaving the platform that I was amused of who controls them. What if both trains arrive at the same time on the same platform? How are they able to get the right view of all trains even when they are far off? These were some of the questions that used to pop up in my mind. But now I'm all clear that there is a station manager who keeps an eye on all the schedules. But if I get a chance, I would certainly like to sit behind that chair and take on the responsibility. I don't know when I'm going to get that opportunity in reality, but at least I can try it on my phone now with Rails.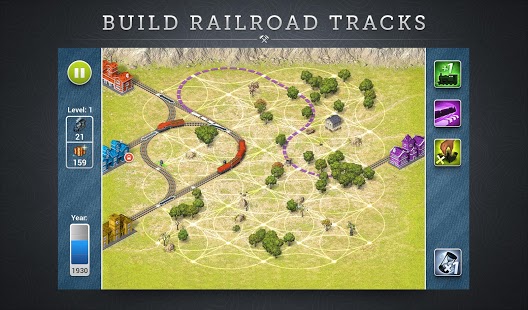 Rails is the new Android app that has been developed by Belight Software. The app is compatible with all the Android devices running Android 3.0 or any later version of the OS.
The developers say that they have created the remake of 90's popular game Shortline Railroad. But I have not played that game and therefore it was a refreshing experience for me to play Rails. The journey has been laid down into three different seasons: summer, winter and spring. Though there is not very much scope for graphics here, still a lot of elements have been included to play distinctive part and make the gaming experience more graceful.
Talking about the gameplay, it's very addictive. You're playing a mind game against time to make sure that all the trains reach their respective stations. But the tracks are not placed in the right manner. There will surely be a collision on the course if you're unable to fix it up. But time is not the only difficulty factor out there. There are 12 types of different trains and they all they have their own conditions to travel. For example, there are crazy trains that won't stop at any cost and there are trains with a time bomb. Moreover, there are many elements such as tracks, traffic signals and lots of calculations that are more time consuming than a 12th grade mathematics question.
To help you in your quest for the ultimate station manager, there are bonus powers like boost, time, reverse, etc which you may use in a situation of unending problem. Overall, the game is very good and I don't think there are many apps of the same caliber out there. The graphics are good, gameplay is addictive, lots of content and there are 30 achievements to unlock as well. The game is available for free in the Play Store and I think these reasons are enough for you to download the app.
Pros: amazing graphics; addictive gameplay; a nice overall package; free.
Cons: none.
Worth Having Application :  Download the App