We all have the fear of our phones getting into the wrong hands and people viewing any of our photos and videos. Most of our phones store all our private data including passwords, bank data, call logs and more. Until now, nothing could be done about it. However, there is finally a solution to it. LEOMASTER, an iOS app development company, has developed 'LEO Privacy Guard', an app that ensures privacy to you.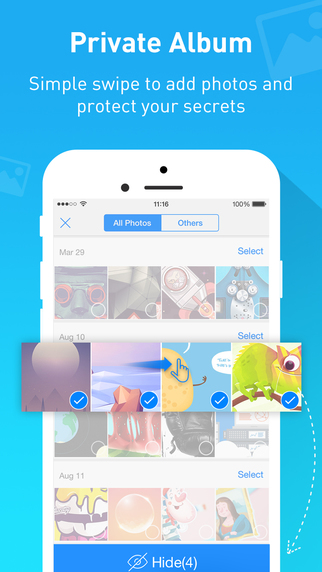 LEO Privacy Guard is your one-stop go-to app for all your privacy issues. It will make sure that your smart phone stays protected from any form of external intrusion. It is an intelligent lock tool that will keep the data on your phone safe at all costs. It comes well equipped with a variety of privacy features that are both innovative and convenient. The latest version of this app even has the magical ability to fix bugs from your phone!
The best part of this app is that it keeps both your phone as well as your mobile apps safe at the same time. It brings in the unique concept of incremental protection levels that have been designed to suit the needs of the user. You can be rest assured against any snooping eyes or mishaps with your phone once you install this app.
The design of the app is focused on functionality and simplicity. It has been kept minimalistic, while also ensuring full utility. The main interface has tabs for Settings, App Lock, Themes and Mode. Users can view the current level of protection and change the privacy controls for call records, videos, photos, and other messaging apps. Everything you need is placed on the main screen, saving you the frustration of navigation. With a smooth and neat design, it is quite a pleasure to use this app.
The App Lock provided by LEO Privacy Guard is indeed one of the smartest available in the market. It protects you from the dangers of e-commerce and social media by giving you control over location, duration and other such pre-sets. Another brilliant aspect of the app is the use of privacy levels. Privacy is categorized into 5 main levels- Dangerous, Vigilant, Normal Good and Perfect. To add to this, it recommends the optimal privacy level to the user from time to time.
This app also makes it easy to hide your photos and videos from unwanted eyes. You can just trust it and stay free from all sorts of worry. It keeps a track of the battery levels, data usage and app installation status, keeping the user informed at all times. Thus, handling your smart phone becomes much easier and simpler. It suggests different lock screen methods as per the user interface and convenience of the user too.
LEO Privacy Guard can be downloaded from the App Store for free. It requires iOS 7.0 or later versions and a mere 14.9 MB of memory space on your device. It has also been made available for the Apple Watch so that iOS users can make the best of it.
Good: Simple and functional user interface
Bad: None
Worth Having App – Download the App