Bowling Paradise 3 is a lot of fun! I found the graphics to be phenomenal, and the audio sound effects were a really fun addition. I first tried out the beach scene, and it made me feel like I was right there on a tropical beach doing what I love – bowling! There were seagulls chirping and you could hear ocean waves as well. The clouds move and the trees sway in the breeze. Very realistic!

The mechanism for rolling the ball was really easy but also realistic. If your finger slips the wrong way – uh oh – gutter ball! Of course if you get a pretty good score, there's clapping – which is always nice! You can change the ball color as well as the pin color, so it offers a lot of customization!
Other key features I enjoy are the ability to turn off any music or sound effects, the ability to turn on or off the camera follow feature, and you can even choose how you add spin to the ball such as swiping left or right, tilting the device, both or none!

The game includes a great help section too, which will teach you how to use the features. I find this to be lacking in some other games and I end up feeling clueless as to how to use it. Not the case with this one! There are also several modes you can play the game in. You can choose one to four players or you can play against the CPU.
I was most impressed with the number of different locations you can bowl in. Each one is unique and each one includes its own awesome graphics, fun sound effects, music and of course the same customization options for your bowling ball and pins.
In addition to the beach scene, there is a space scene – where you roll your ball toward the pins and it goes soaring off into outer space! There are spaceships that randomly fly by, and you can even see the earth spinning before you. I found this one to be especially relaxing.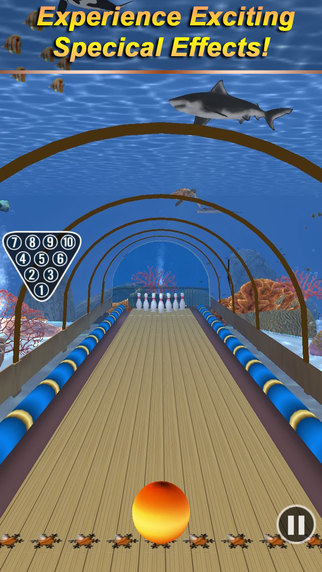 The undersea location is really peaceful! It's like being in your own personal aquarium under the sea. You can see fish swimming by and even a shark! The music is very serene and you can even see little bubbles coming up from the coral.
There are also dome, sky island, space challenge, garden, desert, sci-fi and camping locations! The camping was really cool because that's something my family enjoys. I can't say I've ever been bowling while camping – but now I have! The scenery is lovely. You're under a blanket of stars and there's a roaring campfire nearby. Little tiki torches at the end of the bowling lane are a really nice touch as well. I believe I even saw a shooting star or two!
This app is a must have if you're looking for a relaxing and fun game. My favorite features were the number of different locations, the beautiful graphics quality, the sound effects and the ability to customize your ball and pins to get the look you want. Welcome to your newest addiction, Bowling Paradise 3!
Worth Having App – Download the App