Is Carrom your favorite indoor game? If so, you are not alone. In my search for a good Carrom app, I found this awesome game that simulates the physics of real Carrom. Developed by Junglee Games, Carrom Stars is a real-time multiplayer game that you can play on your mobile at any time. With appealing graphics and the smoothest gameplay, it is the most authentic Carrom game ever.
You can use your Facebook account or mobile number to register, or choose to play as a guest. You get 10,000 free chips to play the game. The rules of Carrom Stars are the same as Carom rules in general. You need to pocket all your pucks (black or white) and the Queen (red piece) before your opponent to win the game. If you win the toss, you will be the one to break and your pucks will be white. Pocketing the striker earns a penalty of a puck. To own the Queen, you must cover it by another puck (by pocketing another puck immediately after it).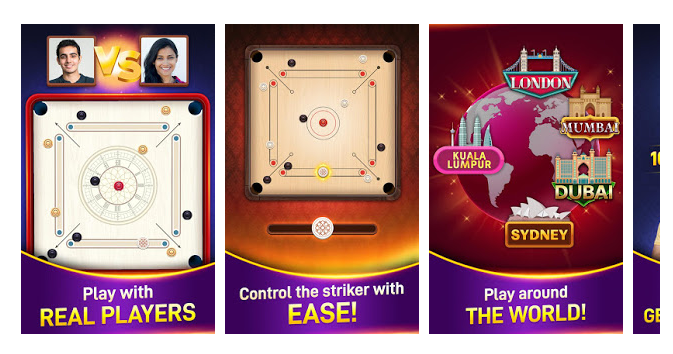 The look and feel of Carrom Stars is exactly like that of a real Carom board. With an easy-to-use interface and amazing controls, playing the game is great fun. The sound the striker hitting the board or pucks is very realistic. You can also choose to turn off the sounds and vibration. I wish the app had some background music for the game to further elevate the player's mood.
The game needs a reasonably stable internet connection. Mumbai, Dubai and London are the three lobbies to choose from with the entry fees of rupees 500, 1000 and 2500 respectively. The prize amount is double the entry fee. The app pairs players who match each other's skill level, ensuring an equal winning opportunity for each player. The app has a Practice mode, where you can play without any chips and sharpen your skills.
Carrom Stars is really addictive and it makes me challenge players again and again. You get free chips when you refer this app to your friends. Available for all android devices, the game can be played by everyone, including kids and adults. The app contains ads placed by the developer and has an in-app purchase option that allows you to buy additional chips.
With the time limit of 30 seconds for each shot, the game gets very exciting, and I could hear myself thinking, "Let me play another match." However much I play, every round keeps me excited, especially when me and my opponent have only one puck left to pocket along with the Queen. If you give it a try, I am sure you will be playing it for hours at a stretch. So download Carrom Stars now and enjoy Carrom gaming.
Pros: 3D Carrom board; easy controls but challenging game; free chips; refer and earn chips; appealing visuals; great entertainment; free to download and play.
Cons: none.
Worth Having app – Download the App