In our busy life, we tend to forget to be mindful of what we eat, often choosing foods for convenience and price over health. Every store shelf is packed with processed foods and fast-food chains line most city blocks — these options are close and cheap, but far from the healthiest choice. This work-hard, eat-cheap lifestyle has made it hard to stay healthy, even for those who prioritize it — and has led to skyrocketing rates of obesity, diabetes, and other conditions that shorten our and our loved ones' years of healthful life. Fivegreen was built by people who've felt these frustrations, for people who want to do something about it.
With Fivegreen, you will be able to easily track the foods you eat and assess your behavior patterns around eating, sleeping, drinking water, and practicing mental health. Fivegreen is a mobile app built for those looking for all-in-one health & wellness solution.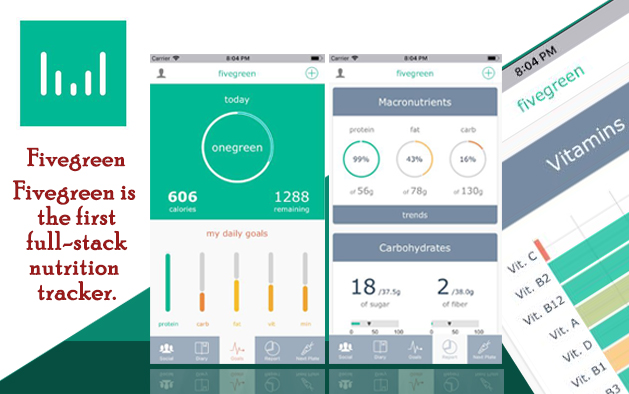 How the app works:
Fivegreen is a nutrition & wellness tracker and nutrition tracker built to help you beat bad dietary habits by creating healthier ones — in a way that is both fun and unique to the nutrition & diet market. You earn the right to your cheat meal only after eating healthily and getting your daily diet score to fivegreen (the programs measure of your diet quality).
Developed for both iOS and Android, the tracker offers advanced functionality wrapped in a clean, easy-to-use interface. You can track what you've eaten (with their easy-logging tech), track other health & wellness behaviors (sleep, meditation, water intake, exercise), get personalized whole food recommendations for what to eat next (based on your dietary deficiencies), and stay motivated to continue eating healthily to earn your reward.
Features of the app:
Clean, user-friendly interface
Complete health & nutrition tracker and meal planner
Detailed nutritional report card
Access to wellness center: track water intake, sleep patterns, mood, and meditation habits
Historical progress of tracked behaviors
Personalized whole food recommendations
Daily goals based on established standards and clinical research
Gamification that allows you level up your diet quality and earn cheat meals
Compatible with:
It is supported by Android and iOS.
DOWNLOAD FROM PLAY STORE

DOWNLOAD FROM APP STORE

For more information visit : https://getfivegreen.com/