Do you know memories are momentary, they are lost as the time passes. Your brain remembers it, but that spark of a particular moment misses. When you capture a smile with your camera, it never fades always because you have captured that moment. Whenever you see that picture, you will remember and feel the memories. Similarly, many people have a habit of writing their personal diary on a daily basis and capturing their moments. It not only helps to relieve stress, but also tracks your mood. But, do you think it captures every moment? In my opinion, it only captures the faded version of the actual happenings. So I was searching for a tool which captures not only the emotions, but also the true memories of my life and tells me about myself. So I got something amazing!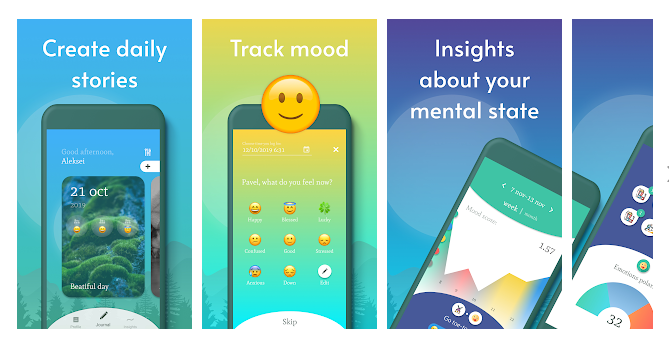 The Daily Journal app is a correct tool for capturing life time moments in a dairy. Daily Journal app and Guided diary is a simple to use self-care guided journaling app with prompts and a powerful mood tracker diary. You can start using the app by simply installing and filling the necessary details. You can describe people whom you interacted with and note down events with the thoughts journal. The app has been developed by Mindstory journal and is compatible with all the latest Android Operating Systems.
This self-care gratitude daily journal app having a mood tracker diary is a nice way to cope up with stress and anxiety and therefore, uplifting mindfulness and gratitude. It's a great approach to collect your thought journal, memories and insights in a diary. Every thought whether good or bad, relaxes your mind and improves sleep quality and reduces depression symptoms. Moreover, mood tracker is a very useful addition to a basic self-care diary and gratitude journaling app. A personal diary provides personalized thoughts, journal scenarios for guided reflection on actual areas such as job, family, friends, gratitude or anxiety relief.
To begin with the Diary Journal app, there are some few steps to follow:
You will check-in and tell how was your day, write 3-10 gratitude sentences about what you have been feeling through the day.
You need to write three victories of the day, no matter how big they are.
The most important step where you will be asked new questions about reflection on appearing daily. Questions are enthralling audio stories which are very similar to a guided self-care meditation.
There are some benefits of using a self-care reflection, journaling app and Guided diary such as: your gratitude uplift at work, anxiety relief, relief of symptoms of depression, boost of reflection and self-care skills, developing an anti-anxiety self-care mindset, journaling itself is a fascinating self-care time. You can create Daily stories, track mood and get insights about your mental state as well. One amazing thing about the app is that there is a separate tab with stats of thoughts diary path like the number of words you have typed, emotions logged, your current entry streak, how many days in a row you wrote something in the thoughts diary. The more you check-in with the mood tracker, the more meaningful insights you get.
So isn't it a curious thing to explore how much exactly do you write in your thoughts diary. Start using Daily Journal app now! Don't waste a single moment of your life and keep them alive just as they are! Enjoy every bit of it!
Pros: intuitive UI; mood tracker for depression; create Daily stories; anxiety relief, gratitude booster, self-care; capture moments in a guided diary; easy to use; very helpful app.
Cons: none.
Worth Having App – Download the App