If you haven't heard of it till now, let me tell you that GiftYa is one of those apps which you should definitely have in your app drawer, at least if you live in the US. Before introducing you to the other things, let's make you familiar with what it's all about! GiftYa is just like an e-gift Store, from where you can send personalized gifts online anywhere. These gifts are not like normal gifts, in fact the indirect form of money just like the Gift cards. But, when there is Amazon, Flipkart for that, what's new in this app? If you have any question popping in your mind, then I have a very simple and straightforward answer, "It's all for free and is more convenient to use than a gift card!"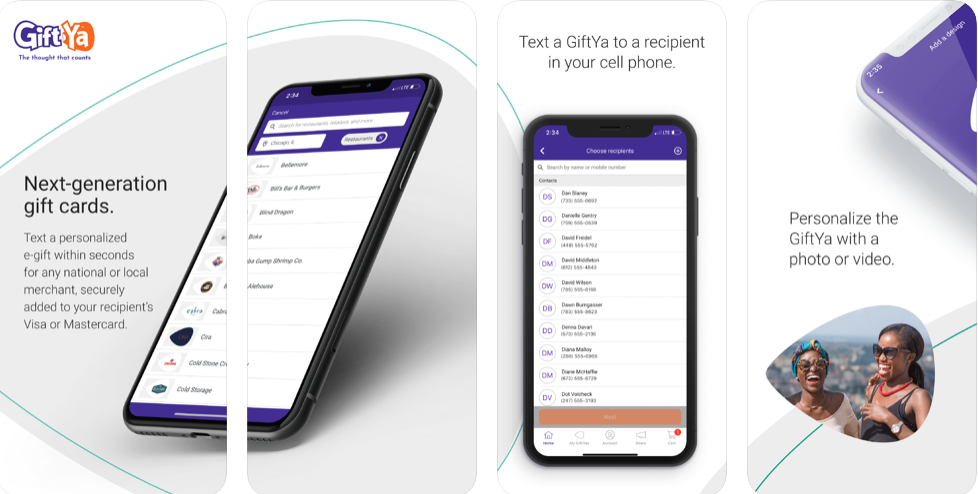 Now, you must be shocked and trying to read the terms and conditions. But let me tell you that there's none! It's a genuine app and all the offers are genuine. So let's find out how it works!
GiftYa is the app that reinvents GIFTING. You can send a gift virtually to any merchant in the US.
The app uses the technology that is a part of our everyday life to send meaningful, personalized gifts at the moment. From the top national brands, to the local restaurants, you can send gifts easily. You need to select the amount you want to send, and personalize your gift by writing a message, uploading a photo or a video, selecting a pre-designed wrapper as well. After that, your GiftYa will be delivered to your recipient's phone within seconds. You can schedule it according to any particular date or occasion as well!
GiftYa is a wonderful app which is a unique way of sending personalized gifts to the people you love and adore! It's a thoughtful gift experience that can't be lost or stolen and don't lose value, unlike Gift cards that can feel impersonal. As a recipient, you have to link the GiftYa you received with your credit or debit card, make a purchase at the merchant you were given and your account is credited the amount you spend until the GiftYa is used in full. One of the best things about this app is that your money is not being wasted and you will get a full chance of redeeming the gift anytime when you shop at a store. Just swipe in and get what you want!
So if you are still thinking about getting this app from the app store, then just wash-off all these thoughts going in your mind and just go for this one. You would certainly appreciate my recommendation.
By the way, the app is available for free in the iTunes store. The app requires iOS 10.0 later versions of the operating system and is compatible with the iPhone, iPad and iPod touch.
Pros: easy-to- use gifting app; send personalized gifts anywhere; send gifts virtually to any merchant; redeem easily; the money gets credited to your account; free to use.
Cons: only available in the US.
Worth Having app – Download the app