What's the most demanding and popular apps these days? I am asking you about the social media apps for connecting with the people around you! I think it's Facebook, Instagram, Twitter, Viber and Whatsapp. Well, there are millions of other apps also, but these are mostly used by the people of all the ages. It's trending nowadays. You can skip your meal, but not chatting on Whatsapp with your frinds and family. Seriously, it's not a joke. You share every small thing via these apps, update your status, your activities, chat with the people, etc. But, do you think these apps are encrypted? What I mean to say is whether these apps save or store your data? You may never know about it. They always ask you to trust them while sending messages and say that they are deleted after being delivered and not saved with them. But, I don't think so! You can get your chat if you want it in future by changing some settings of the app. However, ShazzleChat, doesn't make a mistake!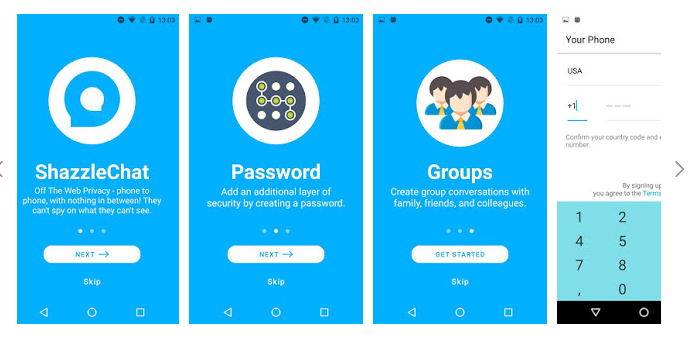 It's totally a free privacy messaging app for all those who want to share their thoughts with someone and don't want their messages to be accessed by any third person. It never gets your data and send the messages directly. You need to download the app and install it on your device. You can create your profile and invite your friends or family members to join you. You can chat with them personally or in groups and enjoy your personal messaging network.
ShazzleChat neither record or saves your delivered content nor limits the amount of content you wish to deliver. It ensures you about the privacy and deliver the messages directly without seeing or storing them. It only helps you to connect, not recording or profiling you. The app uses amazing technology and peer-to-peer connectivity to allow private Internet communications safe from the centralized authority intrinsic to the client/server architecture of the Web by allowing users to serve content directly from their Smartphone and connected devices.
There is no mediator in the network while sending messages from one end to another. Each Smartphone acts as a user's private network, which reduces man in the middle. Therefore, no centralised record of the contents of the communication is ever created. As the content resides only with the Sender and the Recipient, the app prevents the data aggregation, data-mining, and discovery to which all the web communications are exposed.
Overall, I would say that ShazzleChat is a brilliant messaging app where you can send the messages fearlessly. It doesn't store a copy of the message, only you can control the privacy without trust anyone except the recipient. Now, no one will be snooping around your private thought and no big business should profit off data mining your communications. Because, privacy is our most basic and important freedom!
The app is available for all the latest Android device. You can get it on the Google app Store for free of cost! Grab it now!
Enjoy messaging!
Worth Having App – Download the App