Enjoy gaming with the puzzles and love the way it puts your skills and talents to a test? If you are a person who is willing to take up new challenges and solve puzzles of a different sort, then this app would satisfy your quench for trivia games very soon.
iPrize is a unique app that is given by Grocemania Limited. The app helps users to showcase their abilities and talents and lets them participate in a different competition that is created by people from all over the world.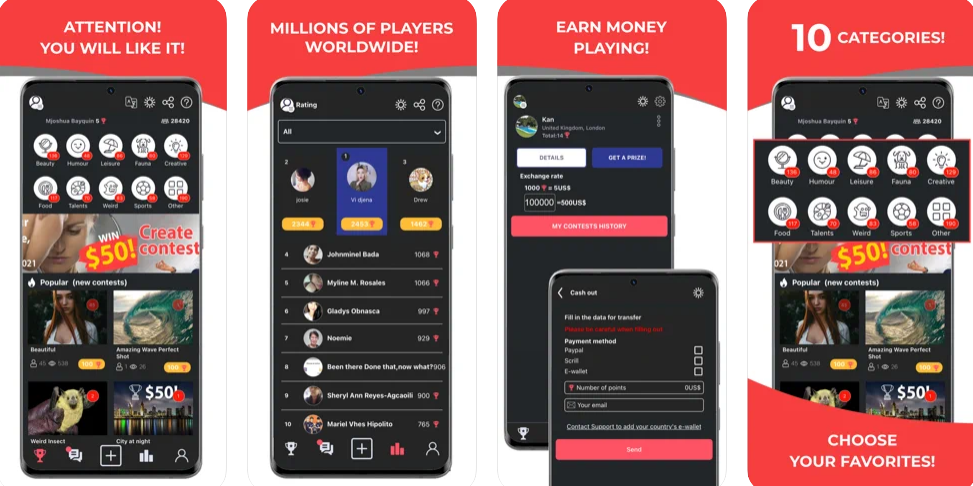 The app lets you create your contests in quite a few hours. Users from all over the globe will help you to choose the winner. The app will pave a way for you to become famous and you might be able to earn a nice reward for making up the contest. People using this can find contests on different topics: sports, creativity, humour, beauty, food, others and a lot more.
iPrize comes with so many attractive elements that you won't find in any other app. It helps you to share these contests with people all over the world and with your friends as well. The app gives you rewards in your own money that can be exchanged and withdrawn through Paypal or other services.
There is a leaderboard option in the app that displays the top gamers who have earned more. There is a separate column tha` displays your profile, the points you have gathered so far and so on. When you earn 1000 coins, iPrize gives you 5$ as a reward. A complete history of the contests you have participated in so far is neatly visible in the app.
Not just earning money, the app comes with a plethora of options. It allows you to display your talents, talk about your hobbies and even make money with them. With this app, you can launch your contests in just a few minutes or participate in the contests hosted by others. It has a contest builder that lets you make your content for the contest with ease. Many active participants are there all over the globe, and this keeps you entertained and you can always indulge in competitions on different topics.
iPrize is completely free to download and it lets users have fun and become famous at the same time. The app is compatible with Android 5.0 or later versions, iOS 12.0 or later and requires macOS 11.0 or later and a Mac with an Apple M1 chip. It can be used in many different languages like Portuguese, Spanish, English, Hindi and a lot more.
Worth Having App – Download the App