Nature Sounds for Sleep – is an app that will make you feel peaceful and sleepy every day!

If you are looking for a Nature soundscapes app that features amazing soothing sounds to go to sleep, then this Nature Sleep Sounds app will make you really happy.

This app features wonderful and calm brook, forest and lake sleep sounds that will put you to a peaceful sleep anytime you want. It will free you from stress, anxiety and take you to a state of calmness and tranquility.

Whether you are looking for calm night sounds or relaxing sea sounds for sleeping, the beautiful nature sleep sounds can be the answer. You can dive into a mediation through the dreamy sounds after a long day and feel amazing. You can even listen to the rain & thunderstorm sounds while working or study to increase your concentration.

The nature sounds are completely natural, calming and soothing for the ears and mind. There is a great variety of nature soundscapes like babbling brook, evening lake, cave etc.. to help you sleep and have relaxation. These sounds can be played with different types of peaceful soothing sleep sounds such as bird songs, frog, wind chimes, seagulls, owl and more.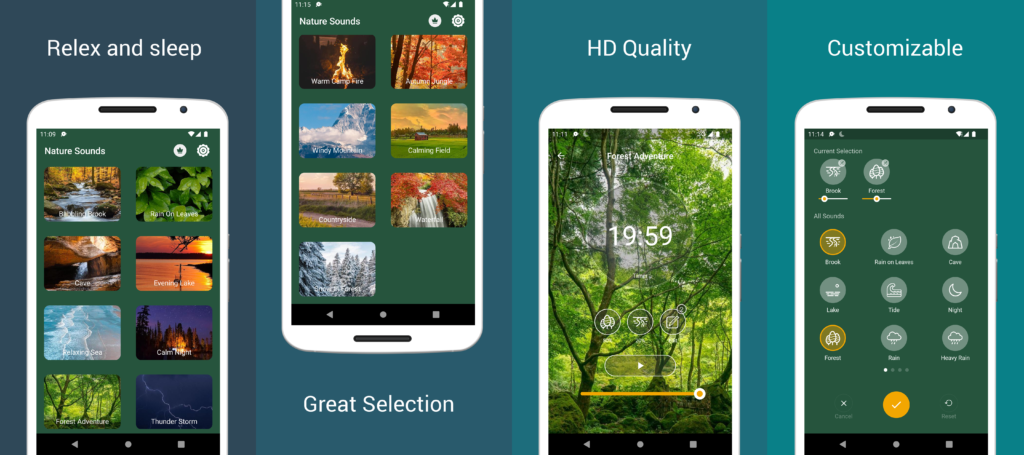 This Nature Sleep noise app is highly customizable and easy to use. You'll have everything in front of you. You can increase or decrease the volume of different sounds very easily, and add or remove different kinds of sounds like wind chimes, seagulls, owl and bird chirping etc. to your nature sleep sounds combination.

FEATURES INCLUDE:
High quality and soothing nature sounds
High quality thunderstorm sounds
Customize nature sounds as per your needs
Optional piano tracks in the background to relax
Simple and beautiful user interface
Timer to turn off app automatically
Lovey background images
Play sounds in background
No internet or data required
FREE AND OFFLINE!

ENJOY FOLLOWING NATURE SOUNDS:
Babbling Brook
Rain on Leaves
Cave
Evening Lake
Relaxing Sea
Calm Night
Forest Adventure
Thunder Storm
Warm Camp Fire
Autumn Jungle
Windy Mountain
Calming Field
Countryside
Waterfall
Snow in Forest
Rain sounds
Usage notes:
For a better experience, We recommend the use of headphones or earphones to listen to the relax nature sounds. Users can also use the app in the background and with other apps to listen to these soothing sleep sounds.

Download the "Nature Sounds for Sleep" for wonderful soothing nature sounds to go to sleep and feel relaxed. Have a Wonderful Day and Peaceful Night with nature soundscapes.