Have you ever tried Reel gambling for real cash prizes, other than visiting a real casino? I am damn sure you all have tried so many online gambling apps before! But, the one which I am going to introduce to you today is just mind blowing! It has a different concept. The Reel Stakes Casino is a mobile casino game you can play for gift cards and prizes for reel fun. The app offers the excitement of playing card games for real prizes with the comfort of playing it on iOS mobile devices almost anywhere, anytime.
Developed by Game Knight, Reel Stakes Casino is an amazing game which is a combination of both poker and blackjack. The players can improve their skills, whether they are a card shark or a beginner, while they earn rewards, exciting gift cards, and other real prizes. The app is compatible with the iOS 12.0 or later versions of your iPhone, iPad or iPod touch. The app is free to download and is suited for people who are older than 18 years of age.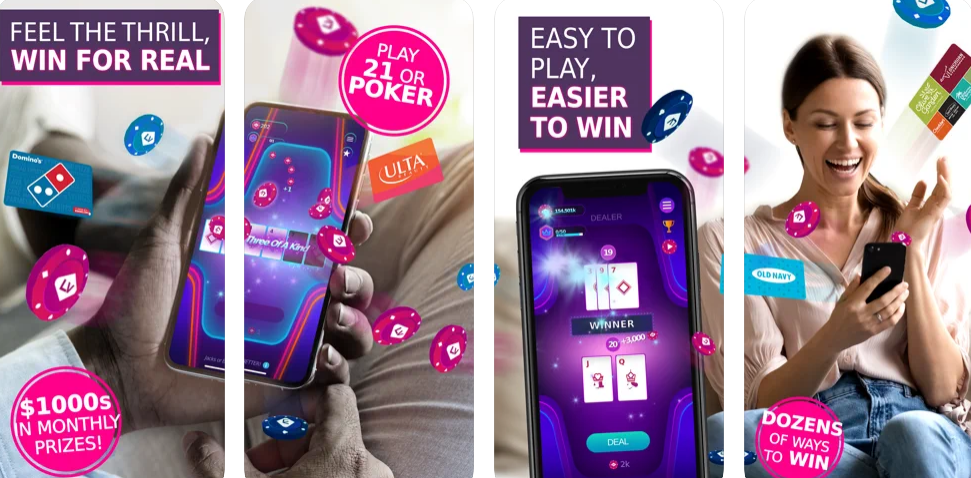 To start with this app, you need simply need to download the game for free. It's that simple. You'll never get bored in Reel Stakes Casino as you try your hand at video poker, blackjack, fun and challenging mini games, and exciting bonus events! Earn up to 25 entry tickets to boost your chance of winning, as you collect cards, race against the clock, and solve riddles.
The Users of Reel Stakes Casino can get new chances to win amazing gift cards and real world prizes many times a day. You can win unlimited prizes you can spend at your favorite retailers. Win as many times as you want! It's very easy to play and easy to win! 
Reel Stakes Casino is easy to learn and fun to play. You can quickly go from the beginner to the winner as you master your card skills playing poker or blackjack, compete in exciting challenges, test your luck and win real gift card prizes to top brands anytime and anywhere. Moreover, thousands of dollars in real world prizes are up for grabs every month! There game is always offering new ways to win, so you never know when you could become the next winner. You can improve your skills playing poker and blackjack to earn chips and fill the bonus spin meter. Every time you fill the spin meter, you'll earn a chance to spin the bonus slot reels and collect entry tickets for one of many big prize drawings! You can play for chances to win incredible gift card prizes worth up to $500 each.
To win in this amazing game, you need to sharpen your poker and blackjack skills and discover new challenges every day. Users can participate in multiple challenges and can enter each challenge more than 25 times to improve their score. You can become one of many daily gift card winners and take home one of hundreds of dollars in daily prizes awarded. To get to the top spot on the Leaderboard, you need to compete against others.
Overall, I must say it's a wonderful platform for all the Casino lovers who love to play poker and blackjack for real money! The app is packed with thrills and rich in real-life rewards.
The app is available for free on the iTunes Store. Grab it now and become a pro from a beginner and boost your chances of winning!
Pros: easy to play; a house full of fun; get real cash prizes; clean up with free bonus slots; improve your playing skills; reel fun and real winnings; free to play.
Cons: not found.
Worth having App – Download the App – Game Trailer Video