Nerd Crawler was created because they wanted to know when new original comic art was available for purchase from our favourite artists and dealers. Still, some were wasting too much time refreshing websites, so we set out to find a way to automate this. They created a proprietary technology to crawl for updates on our favourite original comic art websites, and we're now making it available to other comic art fans.
Nerd Crawler notifies you when an update is detected on your favourite artist and art dealer websites. Never again will you miss a new original comic art release.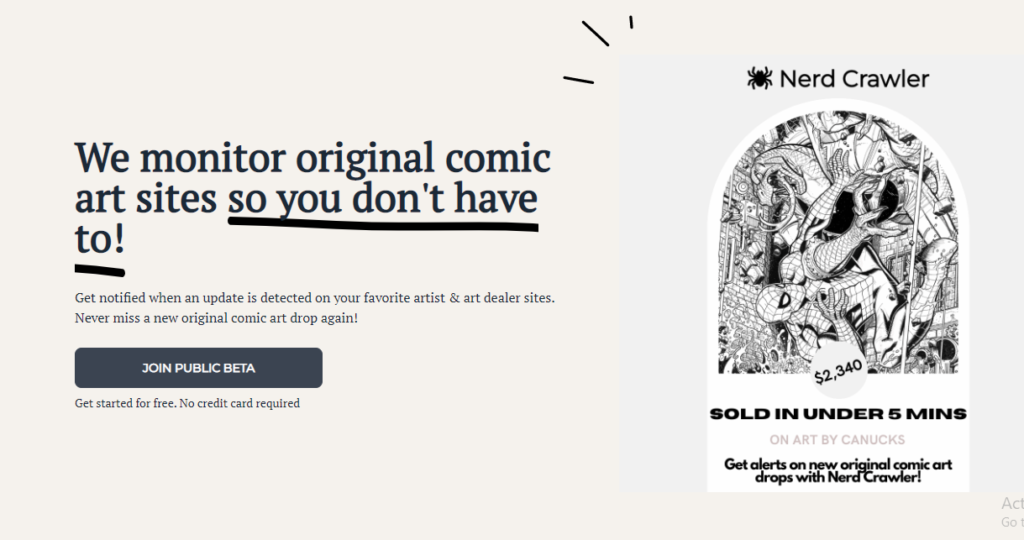 What is the distinction between the Starter and Founder Plans?
Both enable the ability to receive text message alerts and monitor sites every minute, which is essential if you're a serious art collector. On the other hand, the Founder Plan charges a flat monthly fee regardless of the number of active crawlers on your account, whereas the Starter Plan charges per active crawler per month.
To put it another way, the Starter Plan is ideal if you have fewer than 25 active crawlers; however, if you have more than 25, they recommend upgrading to the Founder Plan to save money.
Albert Moy, Anthony's Comic Book Art, Big Cartel, Comic Art Fans, Essential Sequential, Next Comic Art, Romitaman, Skottie Young, Splash Page Comic Art, and Will's Comic Art Page are currently supported sites. You can customize and use the most familiar crawlers on your account to ensure that you never miss out on new original art drops from your favourite artists and dealers.
Is it completely free to use?
Yes. Nerd Crawler offers a free plan that allows you to crawl one page once per day to test the service. You can easily upgrade to one of the paid plans if you want to crawl more than one page, increase monitoring speed, and receive text alerts.
Final Thoughts
Nerd Crawler is one to check out if you're interested in new apps. I believe the developers did an excellent job with concepts and features.